A Very Short History of the
Albury Magpies
Rugby League Club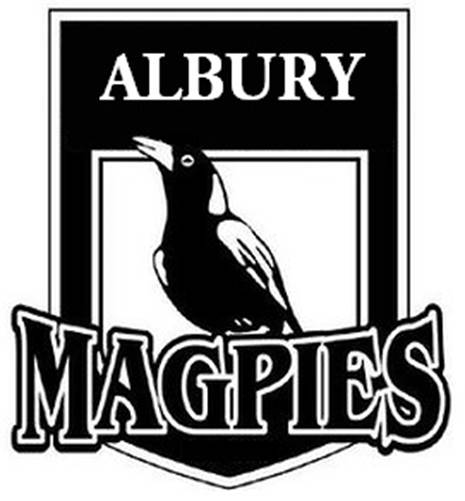 IF YOU WANT ALL THIS ON A WORD DOCUMENT
EMAIL ME AT
WITH YOUR POSTAL ADDRESS
AND I WILL SEND IT TO YOU ON A MEMORY STICK
Send any pics, stories, additions
(eg words to the club songs)
and corrections to the same address.
Last Updated: 15/12/2017
Latest Contacts: Brian Jux, Howard Leader, Paul Dennis.
Contents
Some of the Players and Some of the Years. 10
1970 First Grade Semi Final Teachers v Lockhart at Tarcutta. 12
Began in 1970 as Teachers United
Played for 7 seasons
Ended at the start of 1977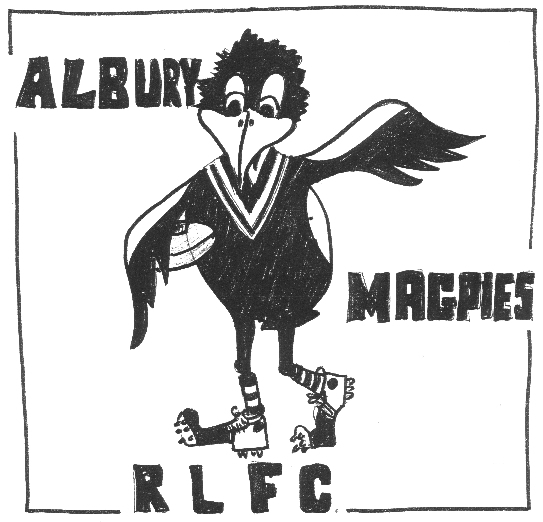 This hung above the bar at Soden's Hotel, Albury
(drawn by Bill Silvester in 1972)


Teacher's United changed its name to Albury Magpies in 1973
and became a hub of Sporting and Social activities for many young people in Albury
and became famous for its hospitality.
The club started mainly with teachers but spread to include anyone with a sporting and partying attitude.
It spawned basketball, cricket, volleyball, hockey and waterpolo teams, all loosely associated.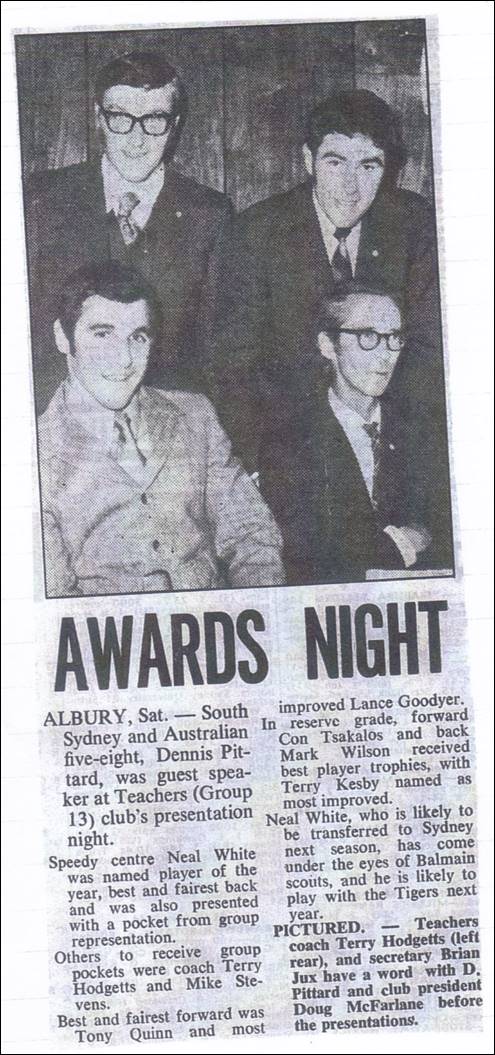 Doug McFarlane, President of Albury Teachers,
Terry Hodgetts, Coach, Brian Jux and Dennis Pittard,
South Sydney and Australian five-eight at Teachers Presentation night in 1971.
Neal White: Player of the Year.
Con Tsakalos and Mark Wilson: Best Reserve Grade players.
Terry Kesby: Most Improved.
Terry Hodgetts and Mike Stevens: Group Pockets.
Tony Quinn: Best First Grade Forward.
The 1971 First Grade Team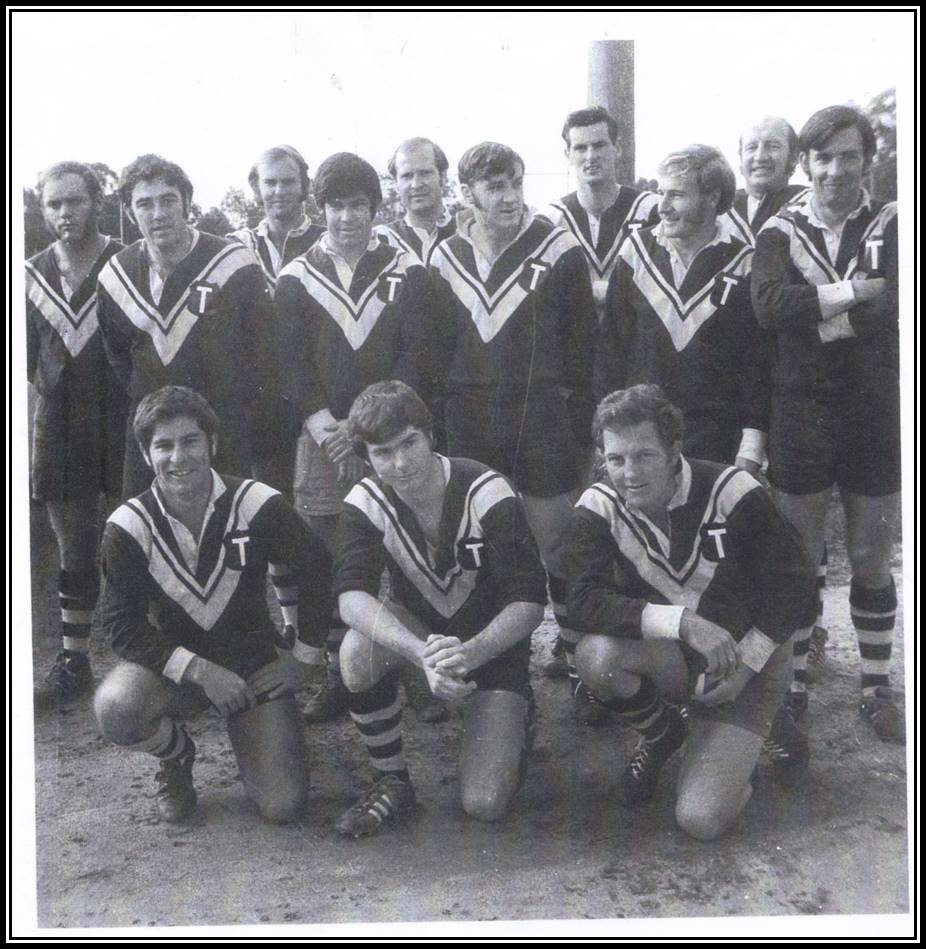 Standing (L to R): John Holmes, Brian Jux, Neil White, Graham Cole, Lyn Jones,
Terry Hodgetts, Lance Goodger, Keith Lambert, R Walker, G Edwards.
Crouching: M Stevens, Ron Hughes, Tony Quinn.
Albury Magpies 1972
Back Row (L to R): Max Apps coach, Lyn Jones, Terry Hodgetts, Graham Cole,
Col Carrington, David Polkinghorne, Roland Martin.
Middle Row: Frank Gee, Bill Silvester, Mark Wilson.
Front Row: John Sobolewski, Barry Thompson, Bruce Baily, Allan Toogood ??, Ralph Johnson.
Reserve Grade 1971 or 1972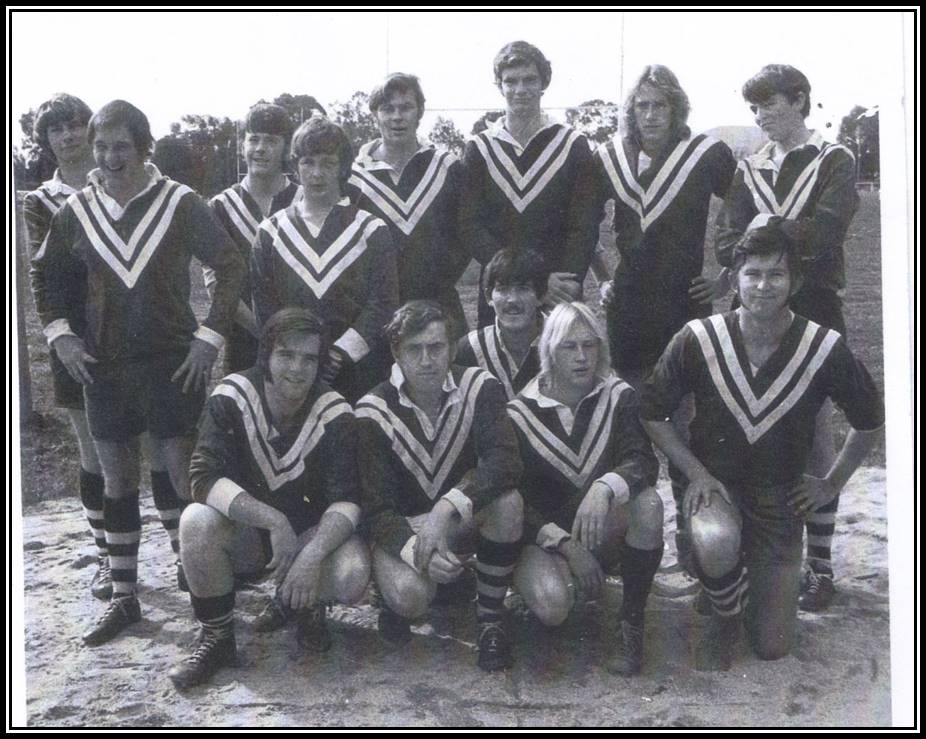 Standing: T Kesby, R Grimmond, A Byrne, N Betts, Paul Dickinson, A Kesby, M Wilson, A Fraser.
Front: A Chick, S Coles, G Atkinson, Bruce Ball, Peter Graham
Coach Terry Hodgetts addressing the team in 1973
1975 First Grade Team coached by Paul Dennis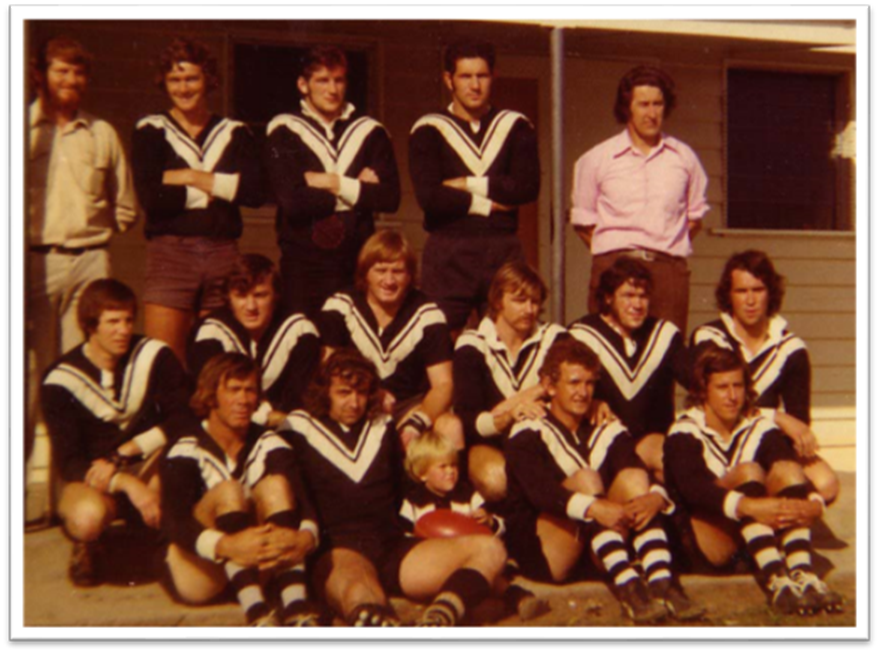 Managers: Bob Moffitt and Keith Ball
Back (L to R): David Polkinghorne, 'Jedda' Halpin, Dave Lucas.
Middle: Bill Silvester, Terry Hodgetts, Paul Dennis, Mike Savage, Max Bloomfield, Ian O'Connell.
Front: Ron Carroll, Garry Huggard, ballboy ??, Wayne Grant, Billy Lotter.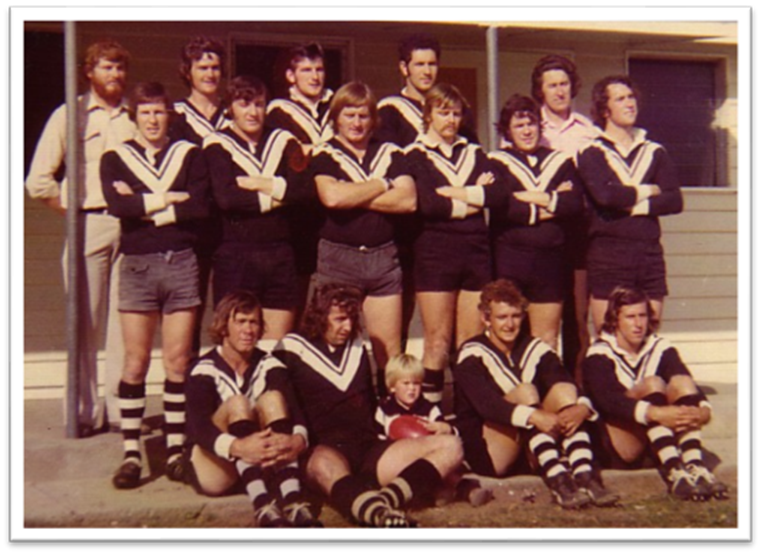 1975 Reserve grade team coached by Don Farrell
L-R Top Row: Jim Purtell (Prop), Peter Shaddock (5/8), Peter Carroll (Lock), Chris (Porky) Anderson (SR), Brian Mead (W), Brian (Changa) Heyward (Prop), Steve (Moses) Hill (Fullback), Don Farrell (Coach). L-R Bottom Row: Jamie Martin (SR), Graeme Hoffman (O Centre), Graeme Cole (I Centre), Howard Leader (Hooker), George Kosciak (Winger), Dave Anderson (SR), Scott Sinclair (1/2), the Ball Bay Michael Silvester.
Absent were: Ernie Meyers (W), Peter Graham and Lindsay Augustus.
Evan Kelly (Manager)
The photo was taken 28th April 1975 at Alexandra Park. We beat Tarcutta that day 21-0.
1971 Committee
Doug McFarlane: President
Graham Black: Vice President
Brian Jux: Secretary- Treasurer
Ron Hughes: Assistant Secretary-Treasurer
Terry Hodgetts: Coach
Committee: Keith Ball, Don Ross, Keith Lambert, Col McAulay
Home Ground: Alexandra Park
1970 Committee
Doug McFarlane: President
Brian Jux: Secretary- Treasurer
Group 13 Reps:
Terry Hodgetts 1971 72 73
Neil White 1971
Geoff Martin 1976
Mike Savage 1976
Ian O'Connell
Riverina Possible – Probables:
Terry Hodgetts 1973
Riverina:
Ian O'Connell
Group 13 Premiers and Coaches

1970   John Holmes on $10/week
1971   Terry Hodgetts
1972   Max Apps
1973   Terry Hodgetts
1974   Paul Dennis
1975   Paul Dennis
1976   Geoff Martin
Clarrie Wilson
Don Farrell 1975
Ian O'Connell 1976
Doug McFarlane
Keith Ball
Possibly …
Dave Polkinghorne – 5 seasons - 1972 – 76
Terry Hodgetts – 5 seasons - 1971 - 75
Graham Cole – ?? 73 74 75 ??
Peter Graham  ?? 71 72 73 74 75
Bill Silvester – 5 seasons 1972 – 76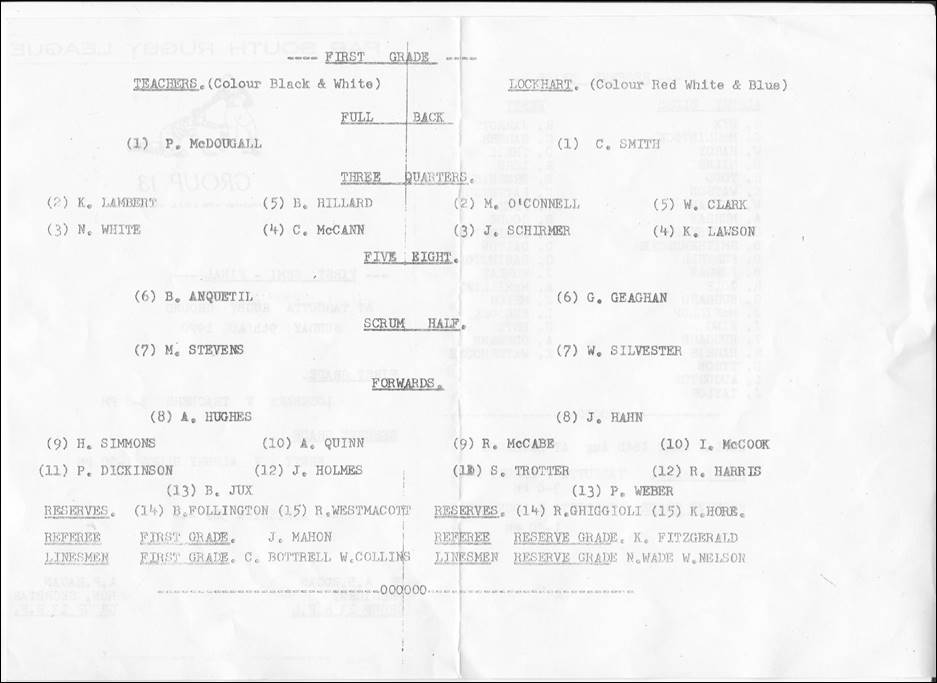 Teachers: P. McDougall Fullback, K. Lambert and B. Hillard Wingers, N. White and C.. McCann Centres, B. Anquetil Five Eight, M. Stevens Half Back, A. Hughes Lock, H. Simmons and A. Quinn Second Row, P. Dickinson and J Holmes Front Row, B. Jux Hooker.
NB: Bill Silvester Halfback for Lockhart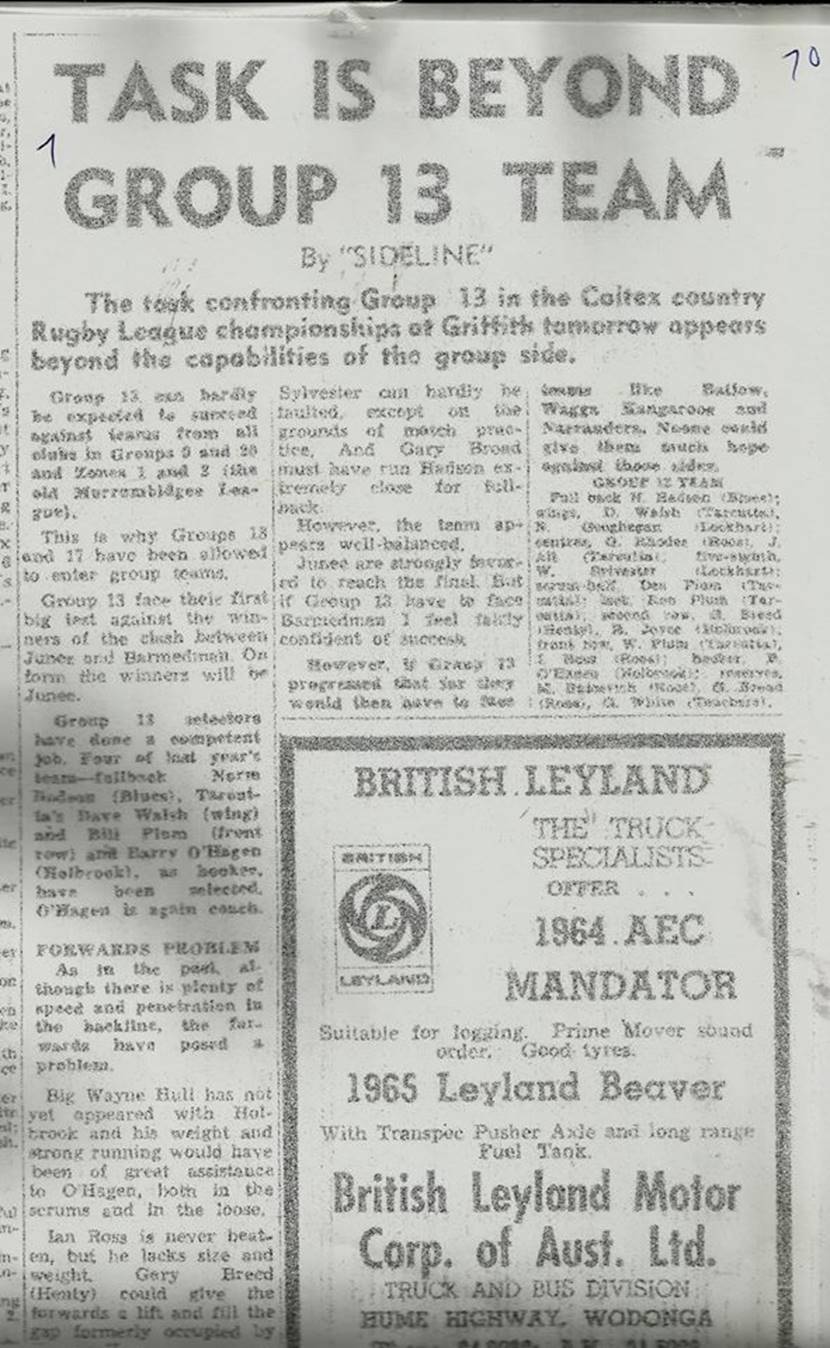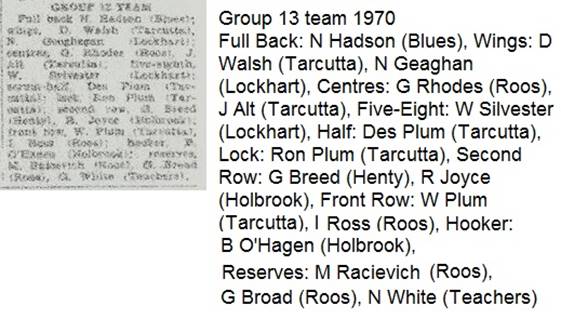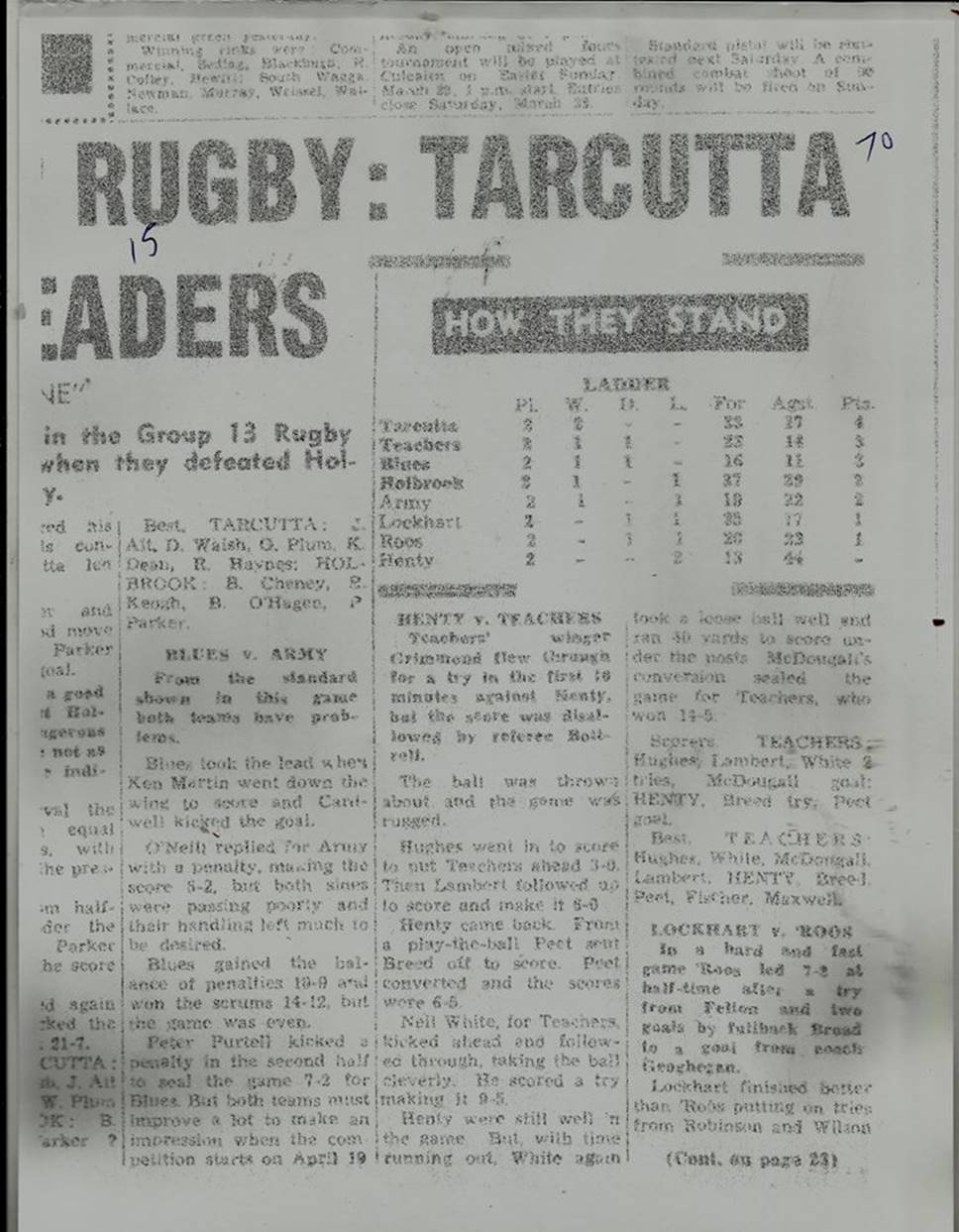 Scorers: Teachers: Hughes, Lambert, White tries; McDougall goal. Henty: Breed try, Peet goal.
Best: Hughes, White, McDougall, Lambert.
1969 Tarcutta
1975 Albury Blues
1985 Tumbarumba
1986 Tumbarumba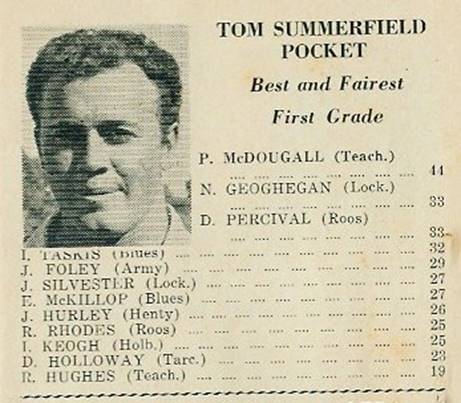 Paul McDougall 2nd in the Wayling Gold Medal, winner of the Tom Summerfield Pocket.
4th in the Tom Chubb Highest Point Scorers.
R Hughes 7th in Wayling Medal and 12th in Summerfield Pocket
Neil White 4th in Try Scoring list.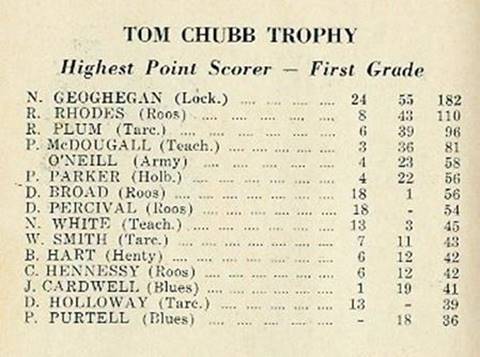 New Coach Terry Hodgetts and Preseason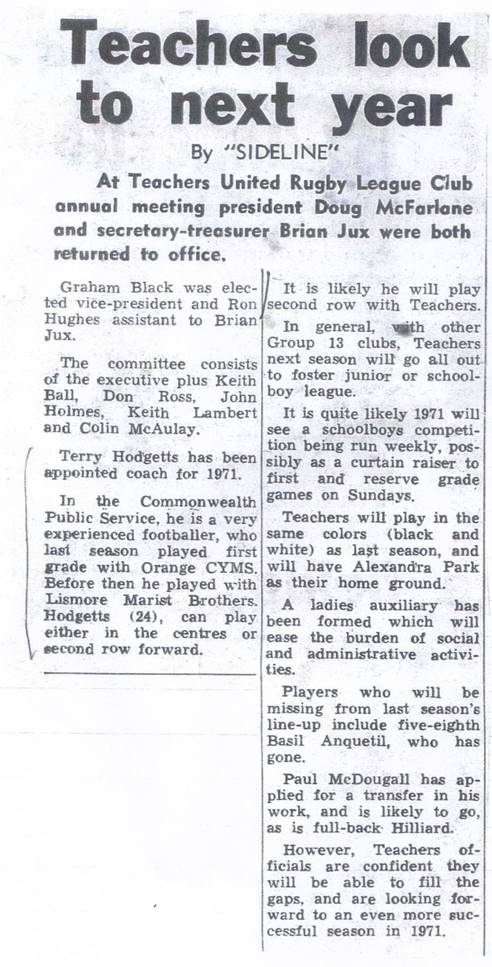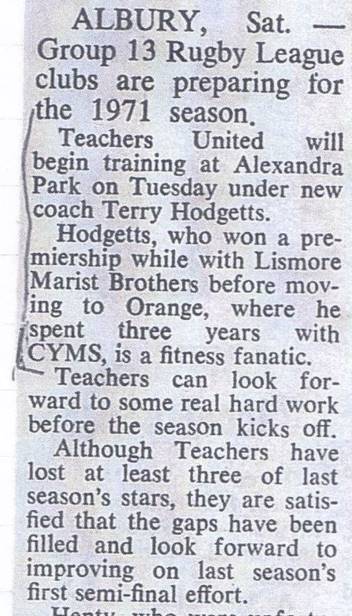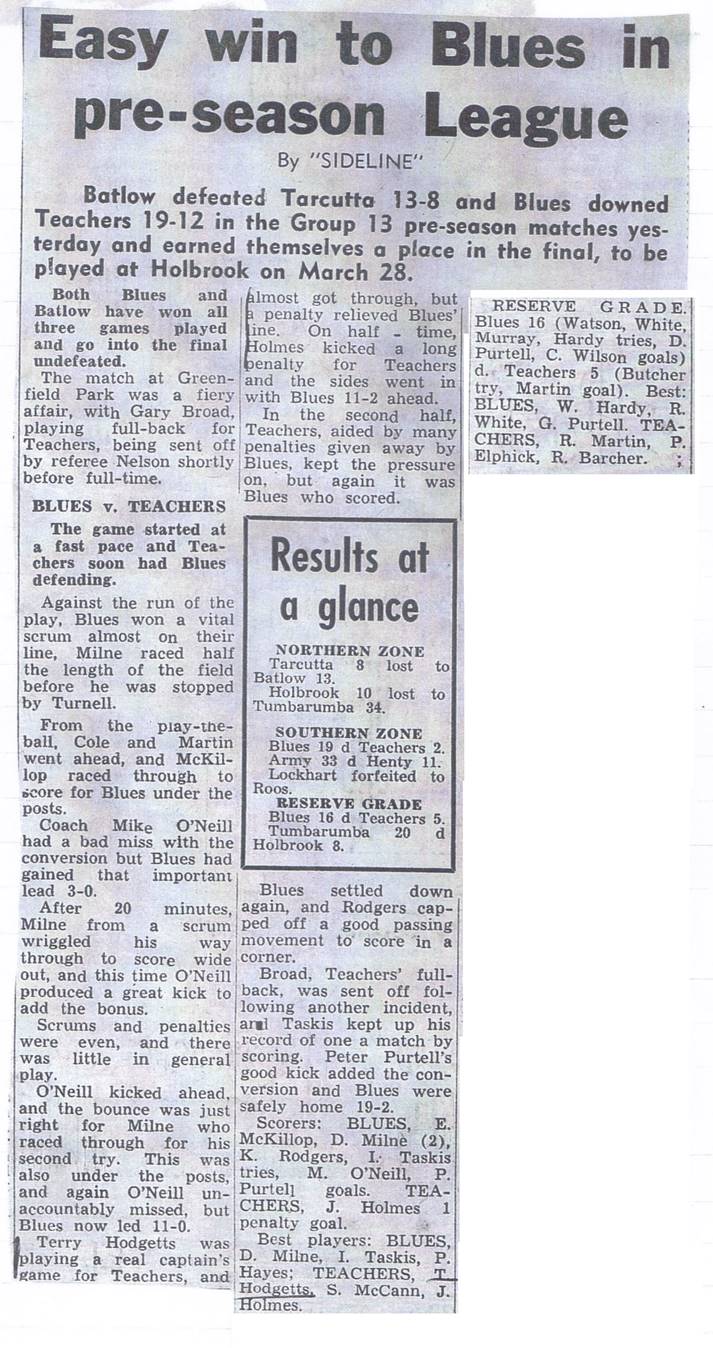 R1 Teachers V Henty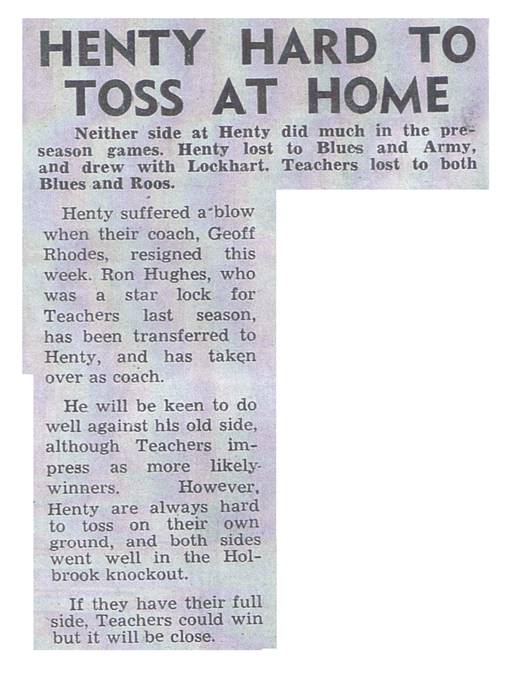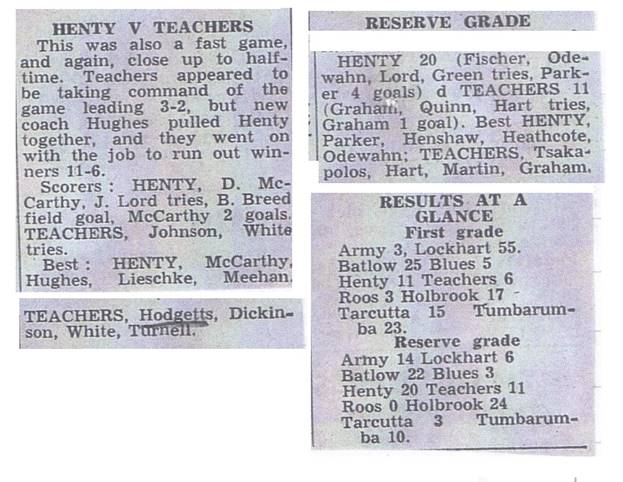 Group 13 v Group 17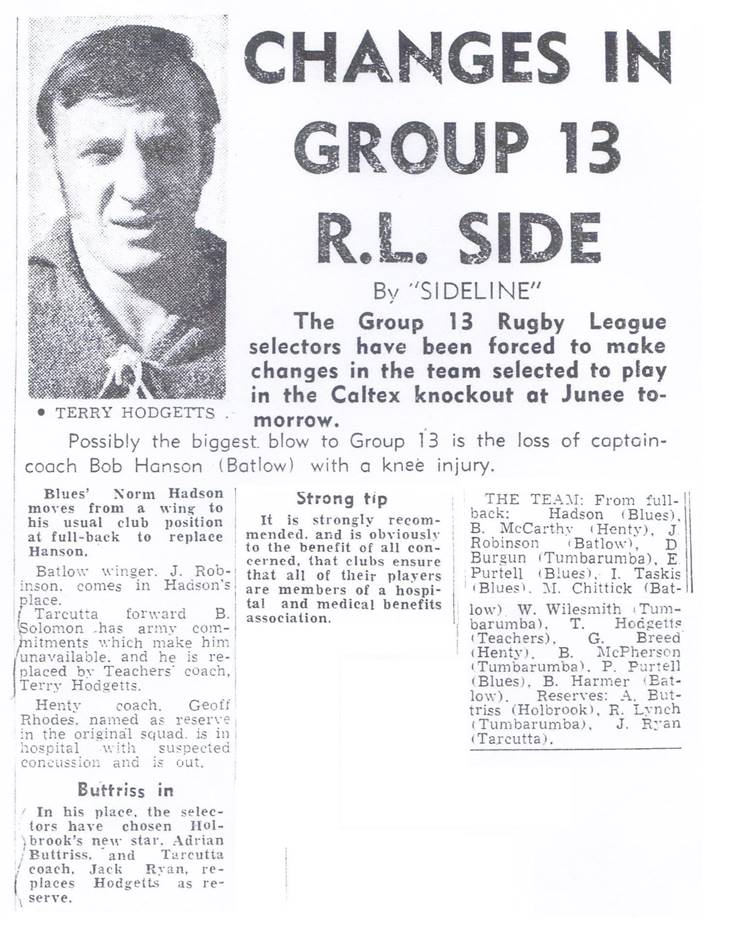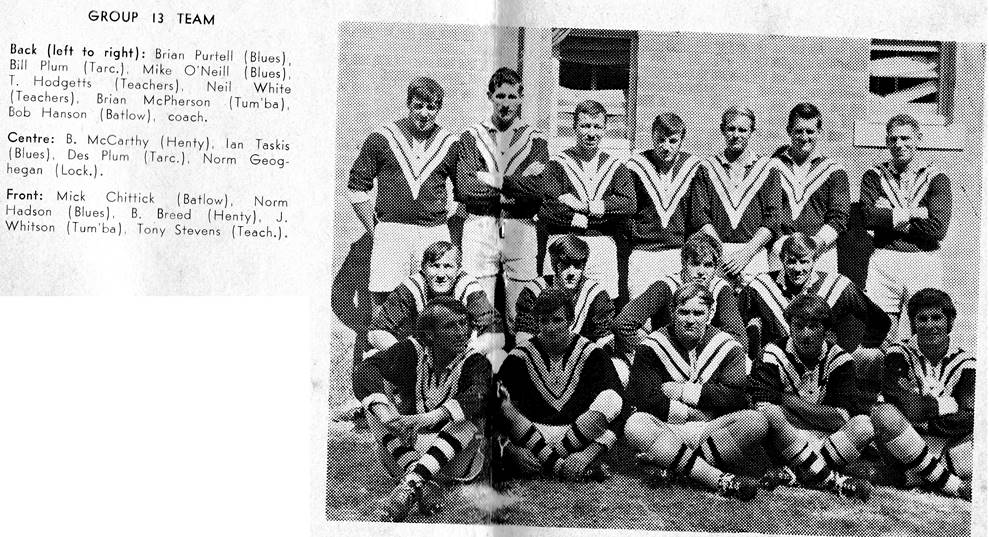 R2 Teachers V Tarcutta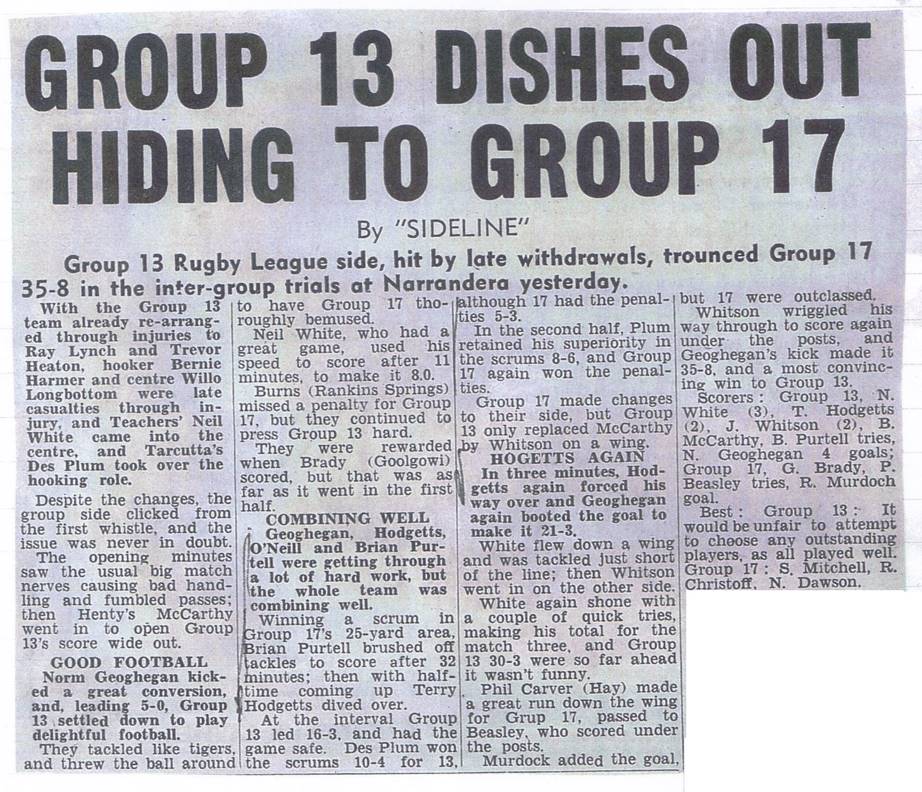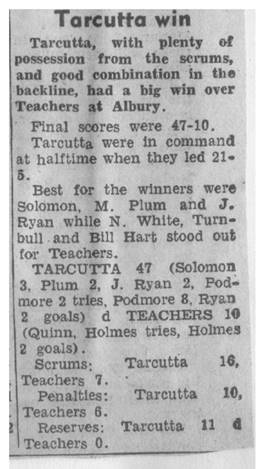 R3 Teachers V Batlow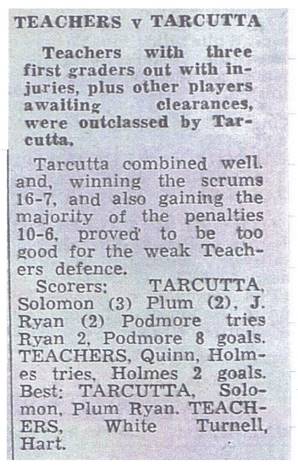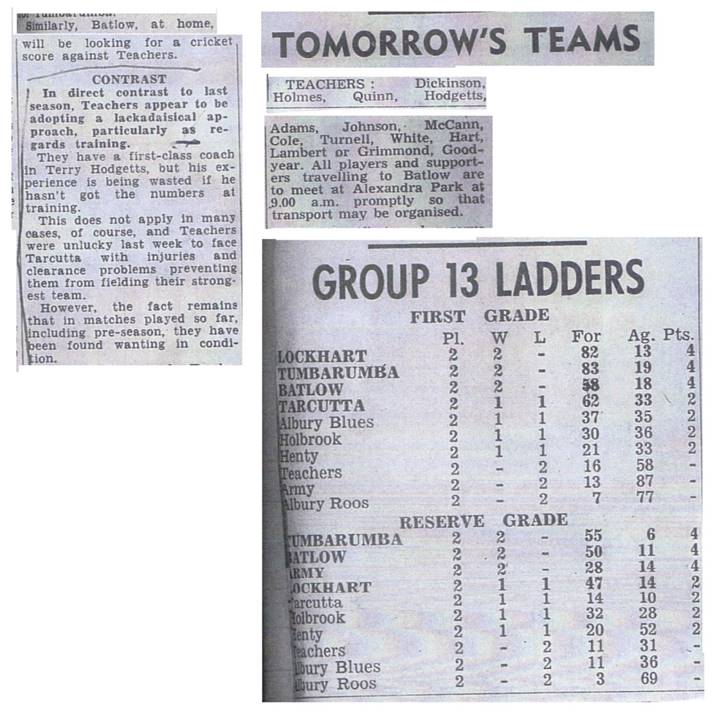 R4 Teachers V Roos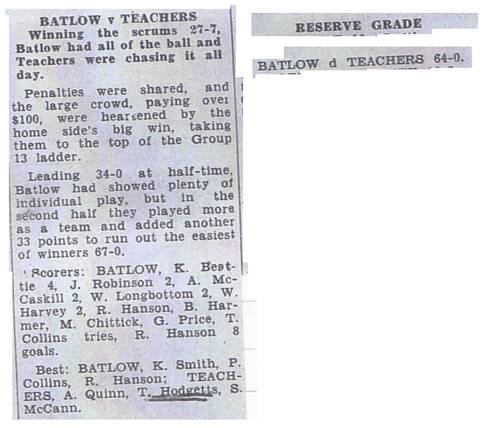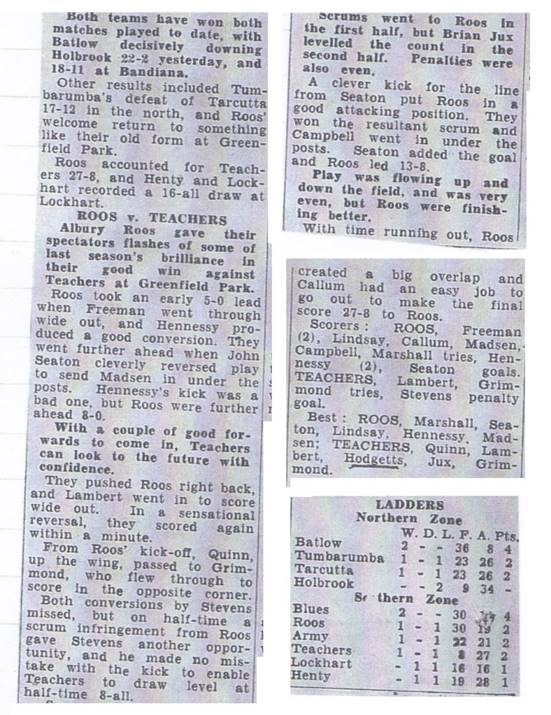 R5 Teachers v Holbrook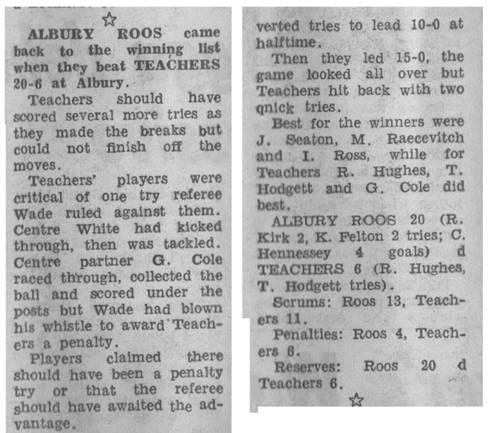 R6 Teachers v Holbrook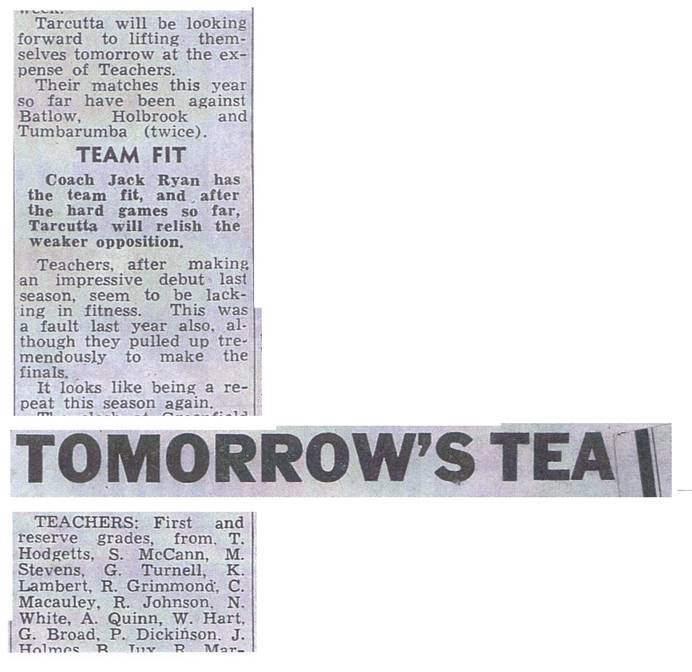 R7 Teachers V Lockhart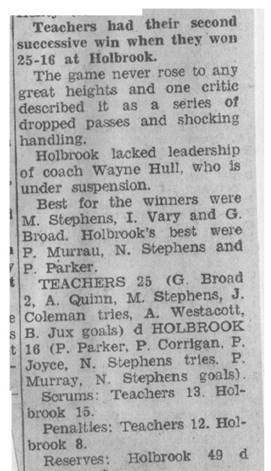 R8 Teachers V Tumbarumba
A Game to Remember
1971 Tumbarumba and Batlow came back to Group 13 and were expected to dominate the comp.
 Lockhart were the only team to beat both during the season.
BUT it was Teachers who were the first to beat Tumba. 12 – 10 in Round 8 with Neil White scoring 4 unconverted tries.
John Whitson and Warren Crotty scored for Tumba with B Burgun kicking 2 goals.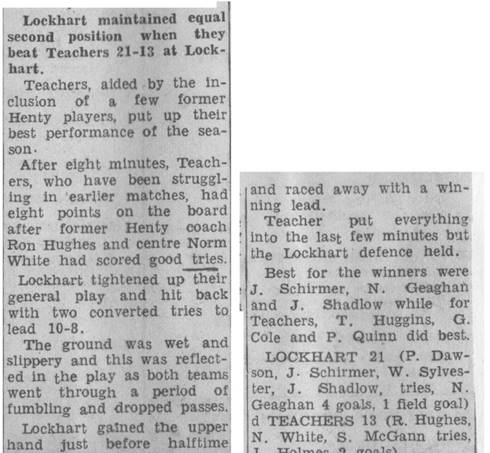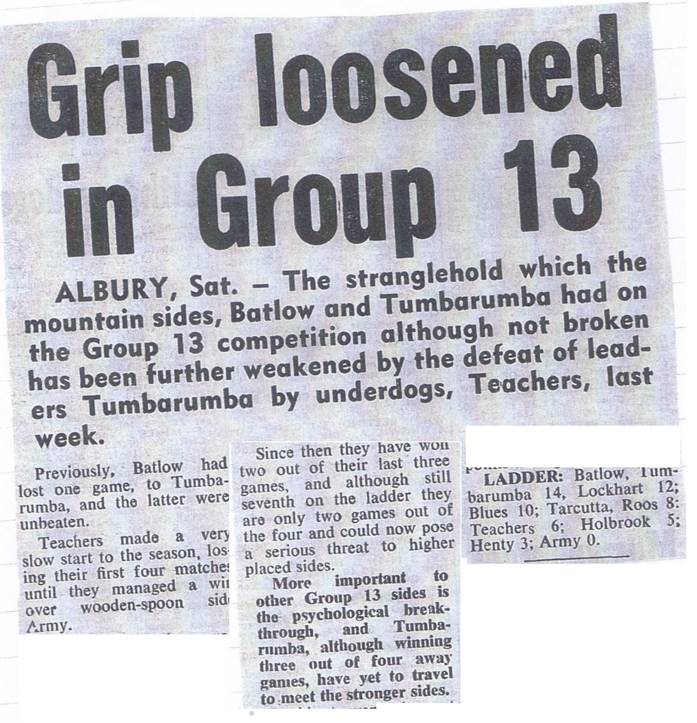 R9 Teachers V Blues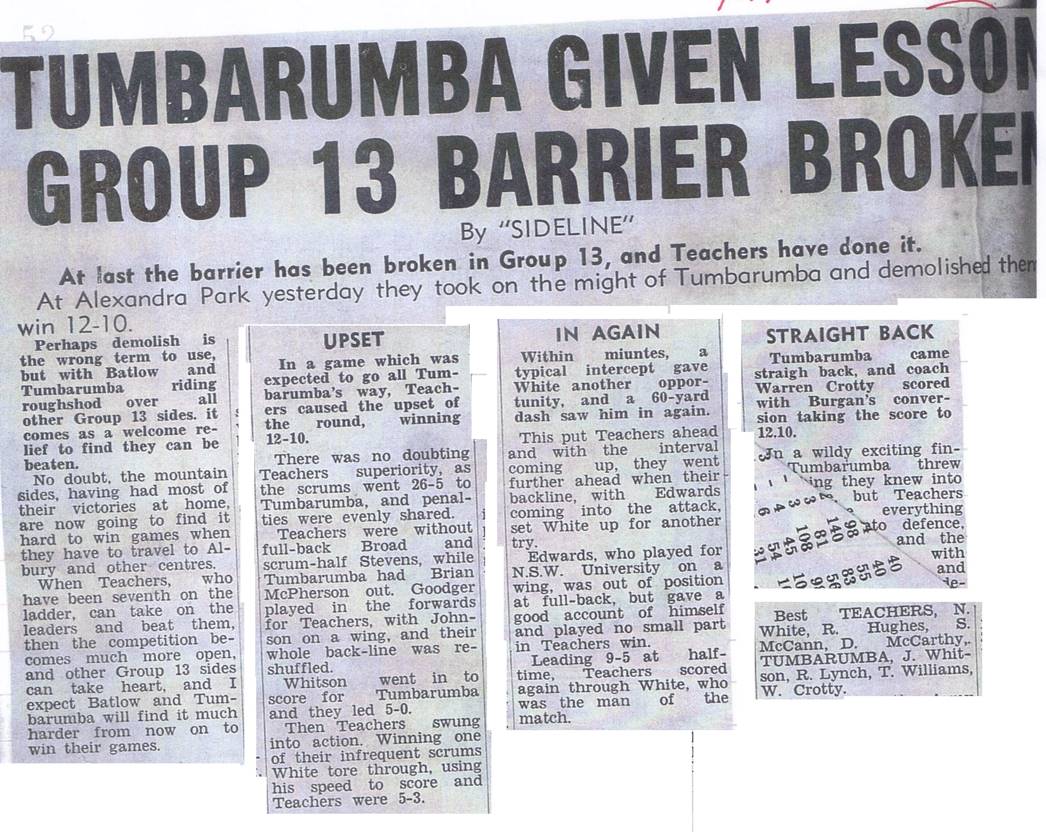 R11 Teachers V Tarcutta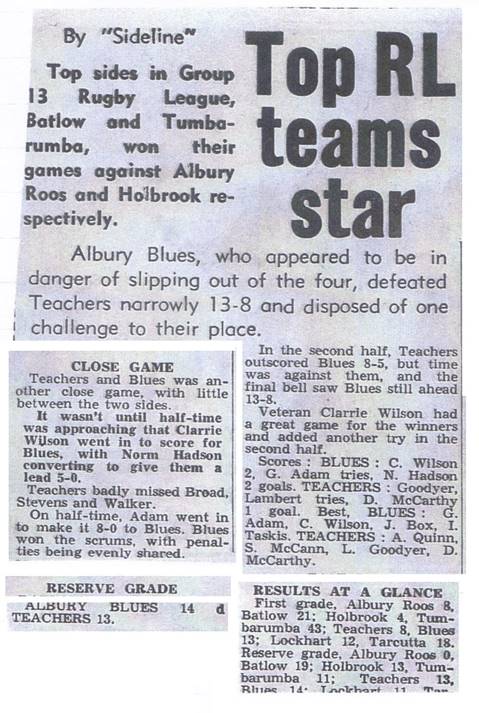 R12 Teachers V Batlow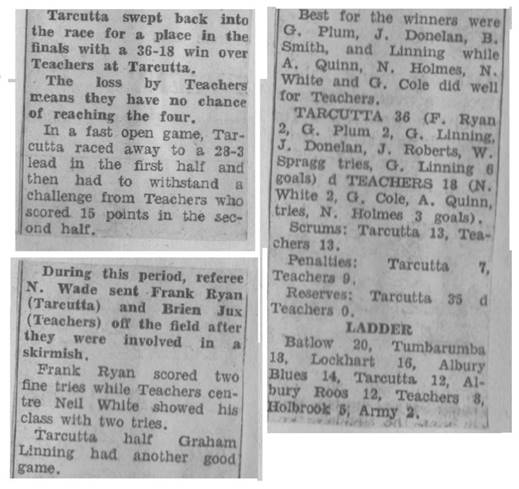 R13 Teachers V Roos
R14 Teachers beat Holbrook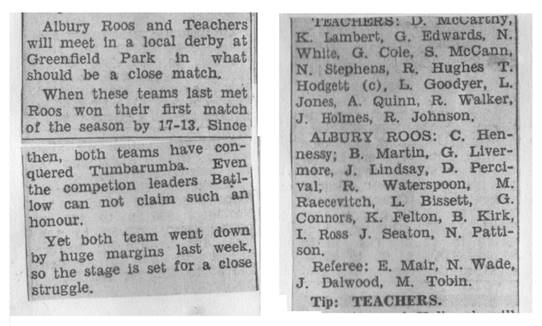 R15 Teachers V Lockhart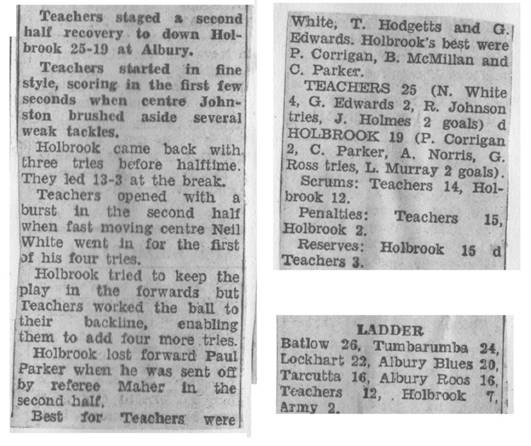 R17 Teachers V Tumbarumba
Teachers beat Blues R18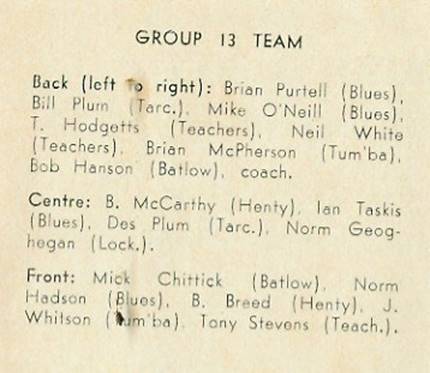 Group 13 team 1971: Neil White, Terry Hodgetts, Tony Stephens.
Brian Purtell, Bill Plum, Roos or Blues coach, Terry Hodgetts, Neil White, Eccles McPherson, Bob Hagan (Batlow coach).
??, Ian Taskis, Des Plum, Norm Geaghan.
Cudmore ?? – Batlow half, Norm Hadson, Henty??, John Whitson, Tony Stephens.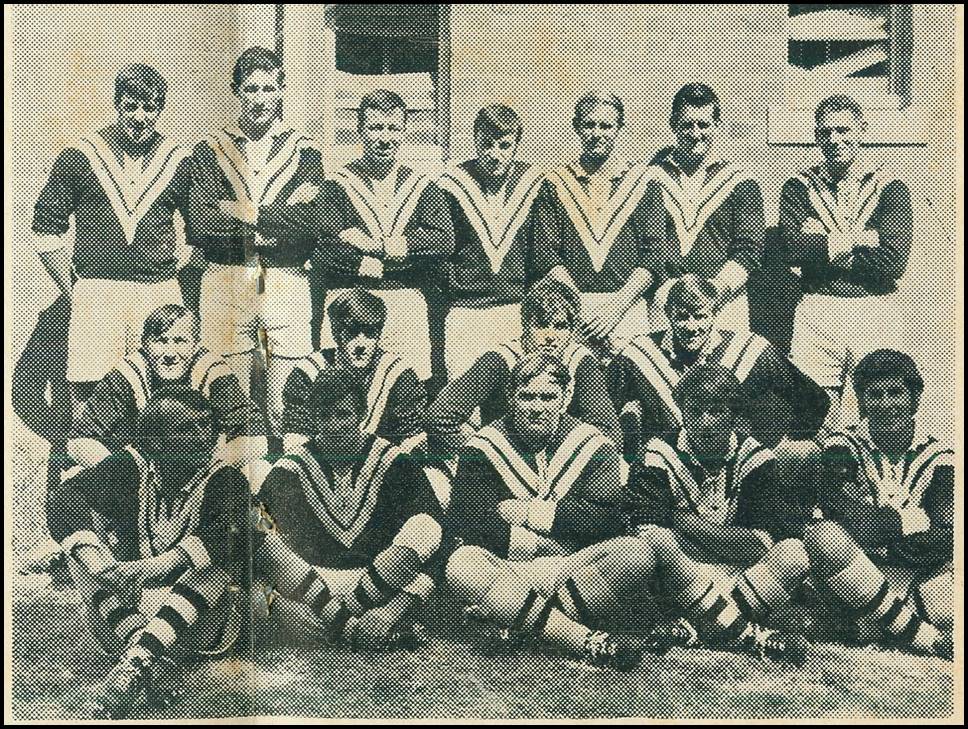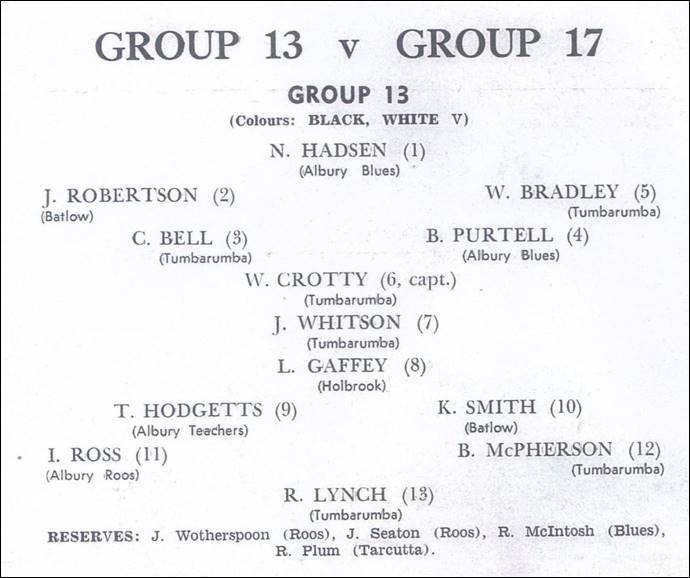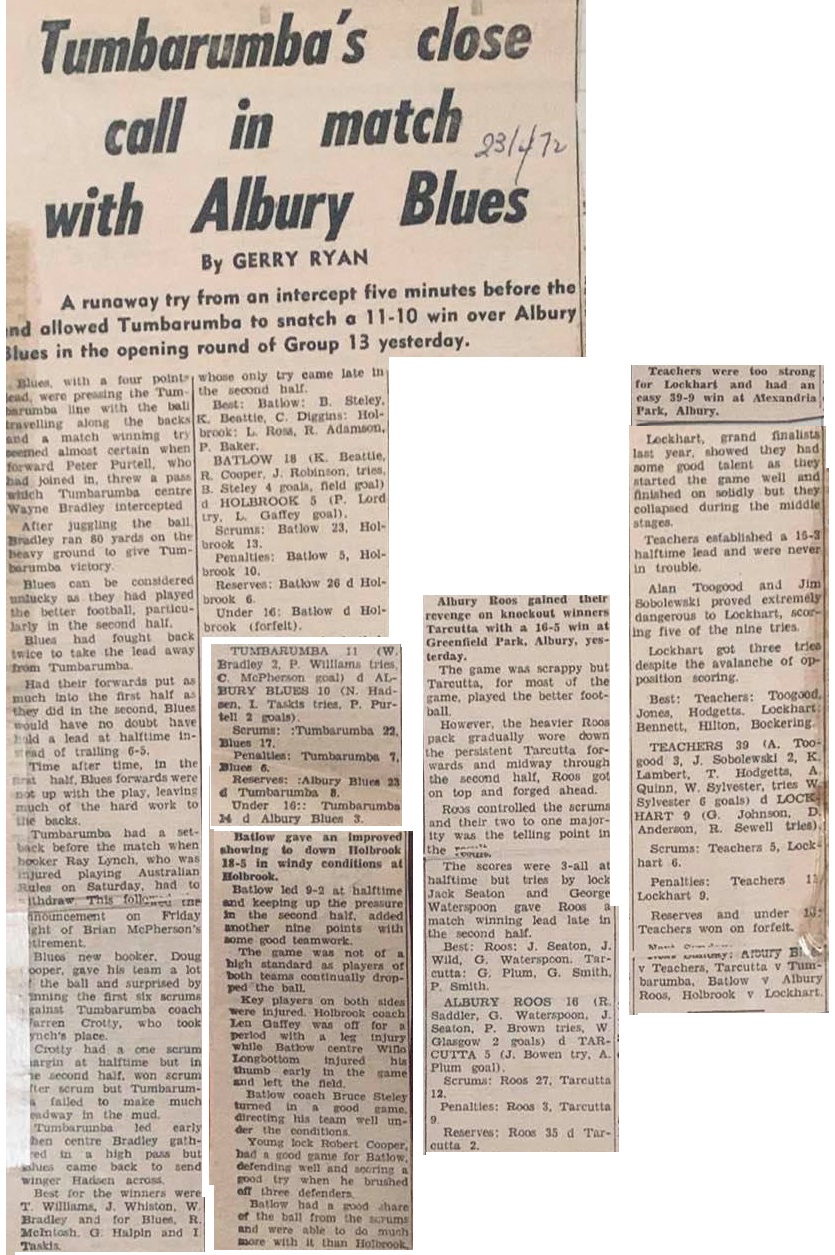 Terry Hodgetts figures in both Best Player Awards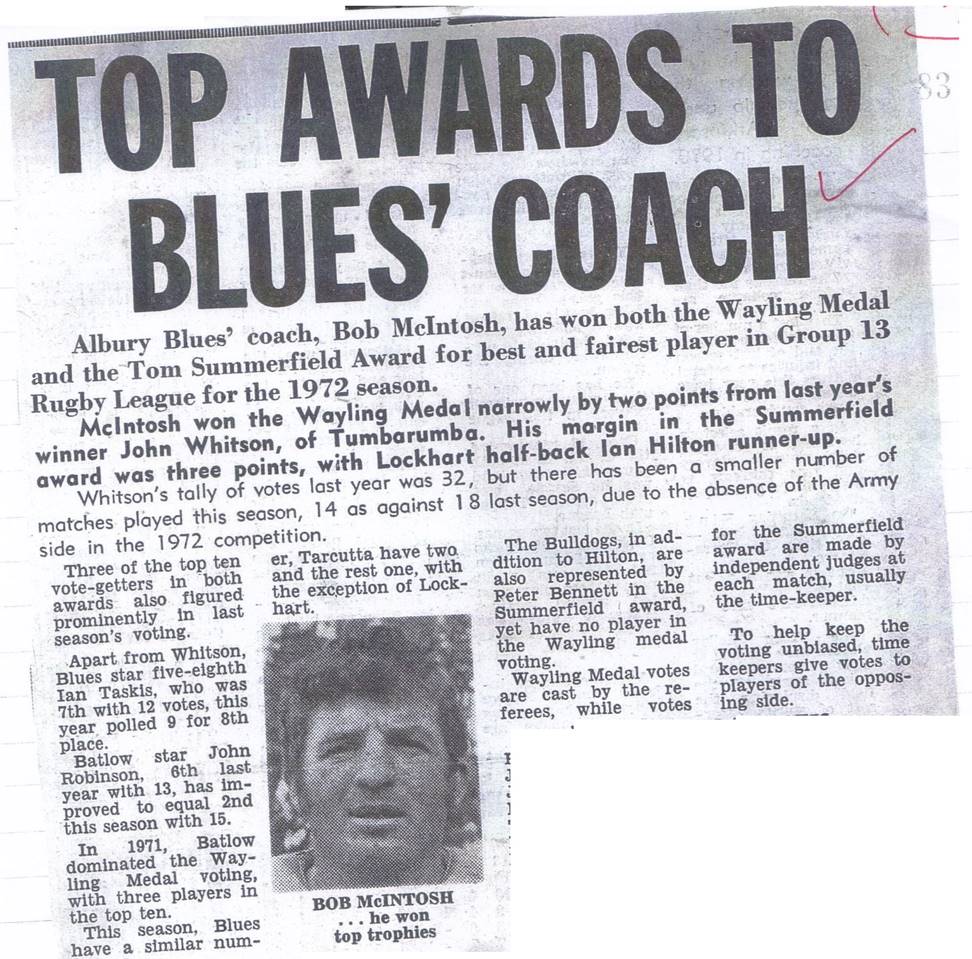 John Holmes in Reserve Grade point Scorers.
Article mentions that he was also 13th top scorer in 1971 season.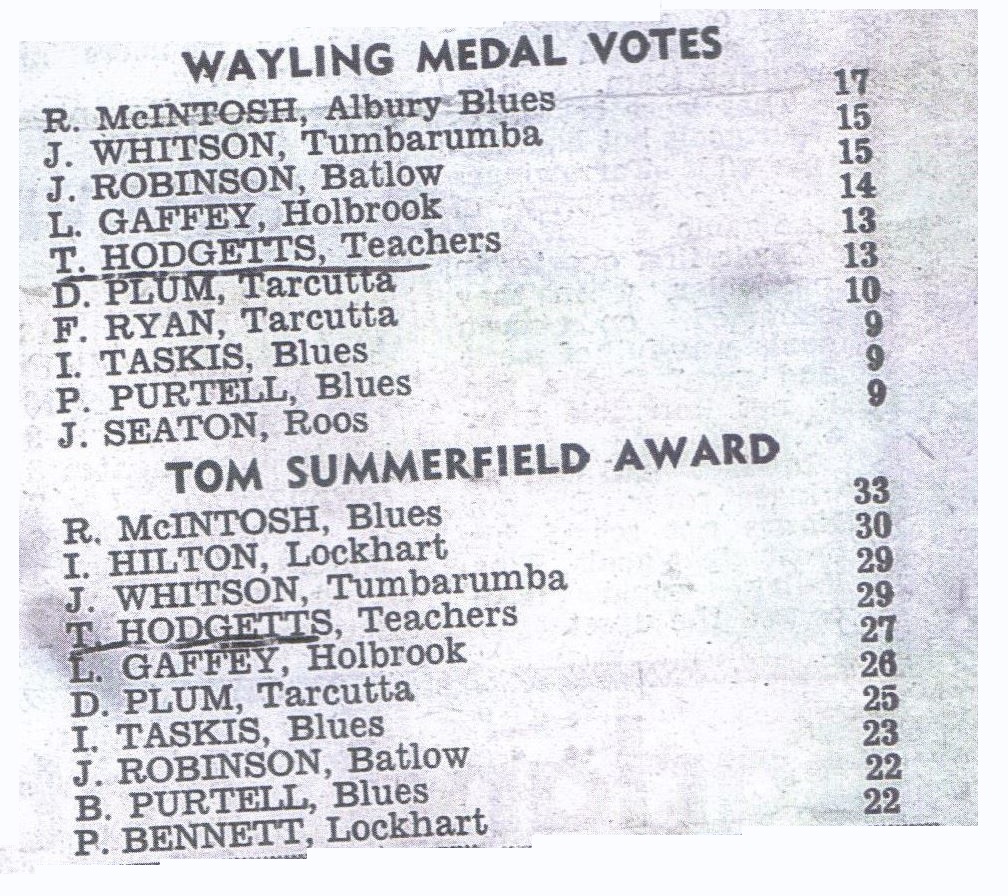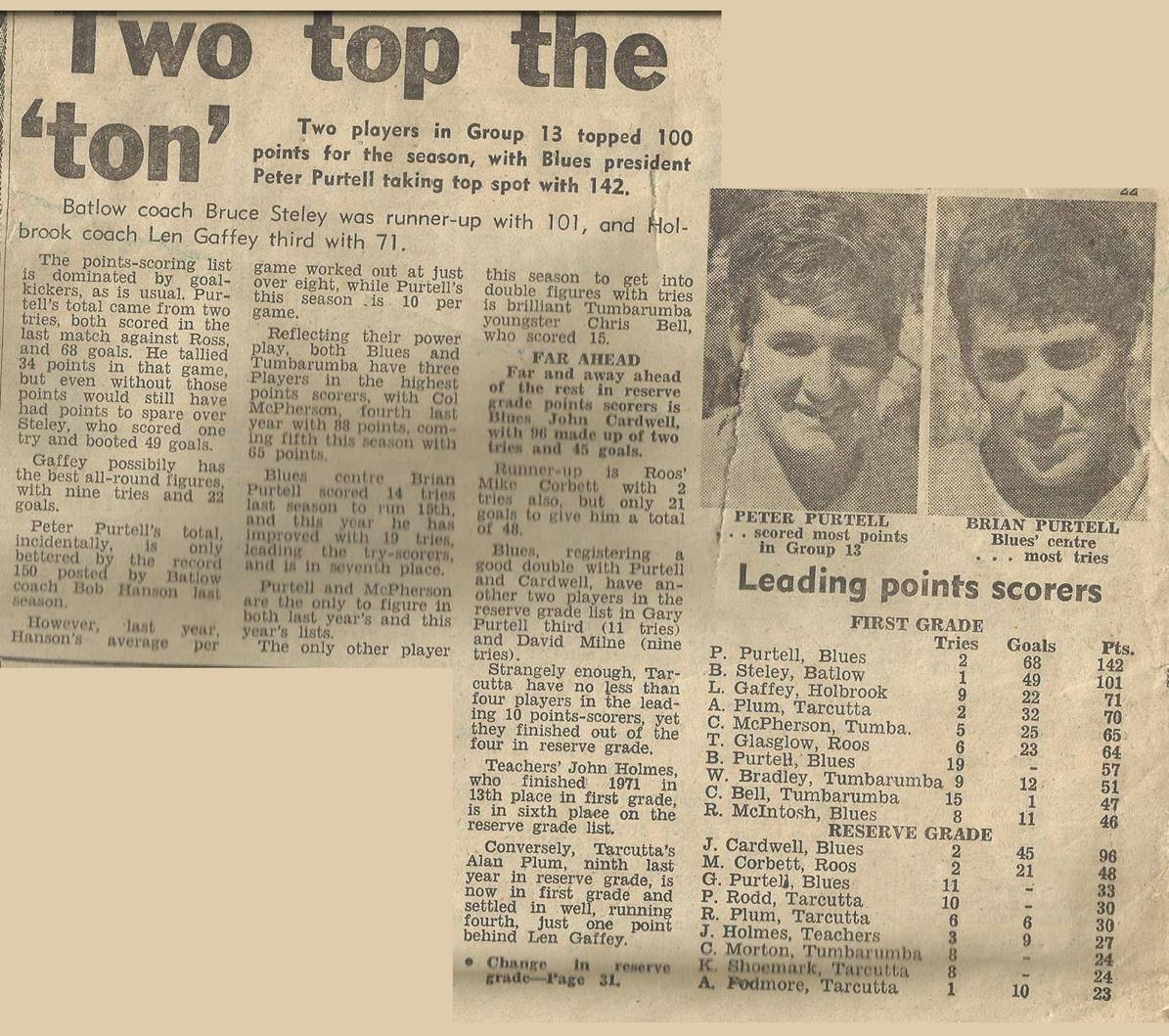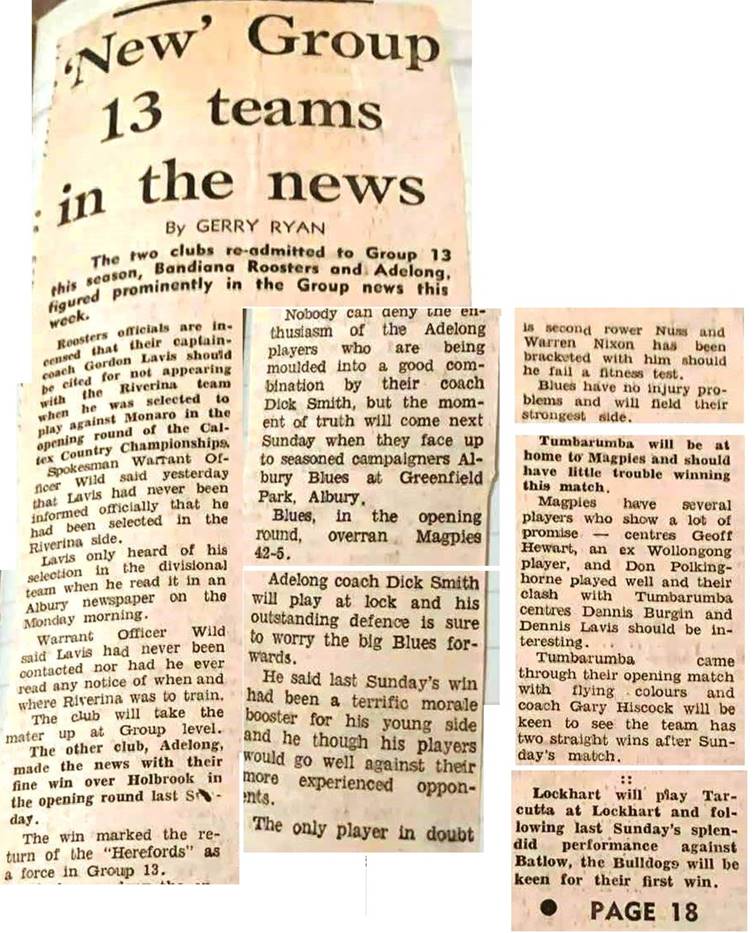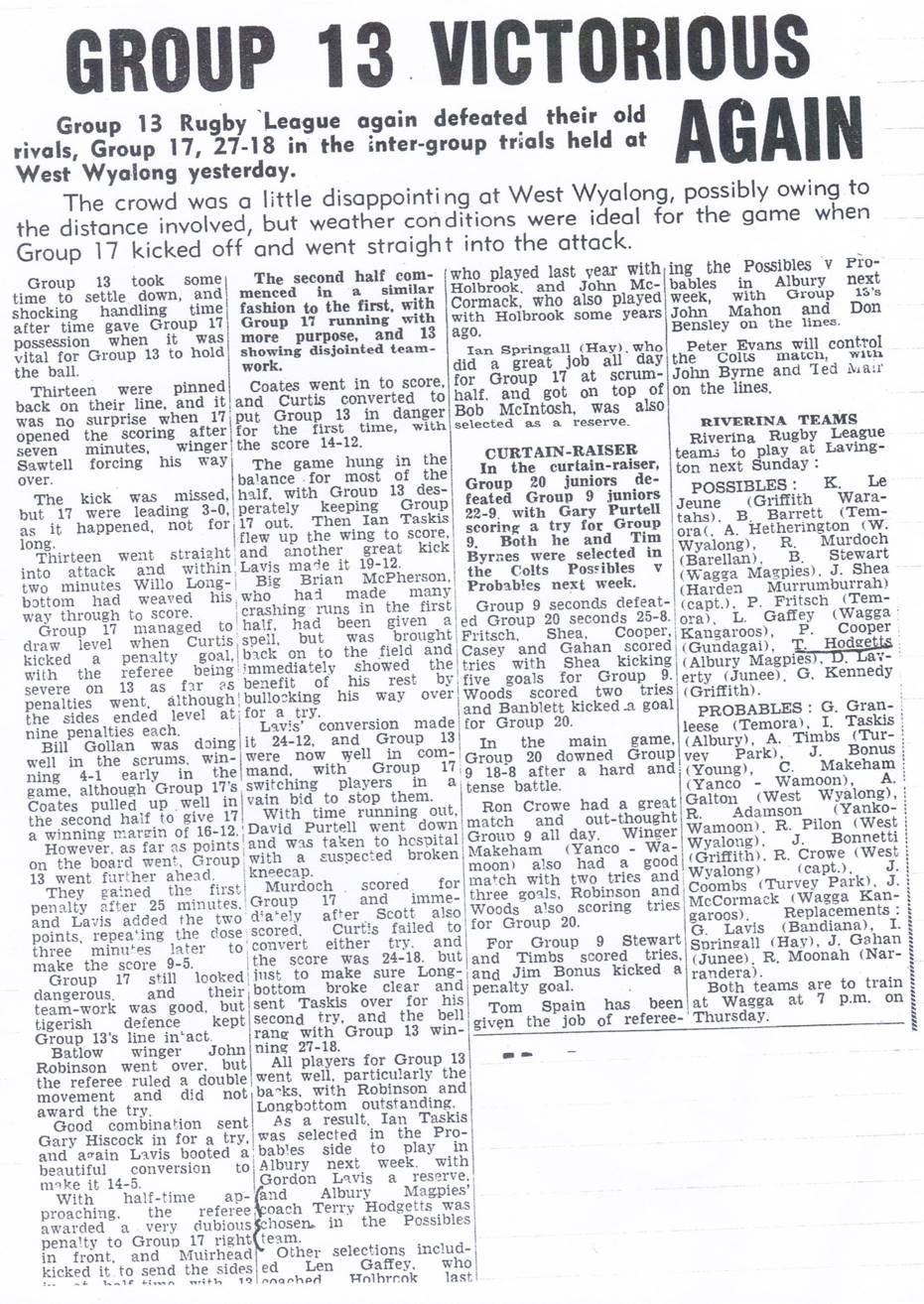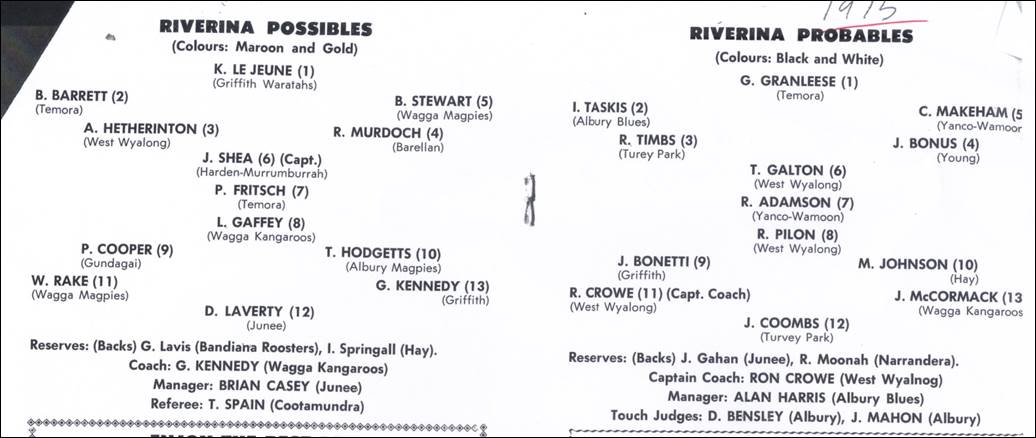 Magpies lost to Roos 31 – 15
Best: G Thompson, T Hodgetts, M Savage, D Polkinghorne.
Scorers: Thompson, Polkinghorne, Savage Tries, Thompson 3 goals.
Group 13 1975 Results
FINAL LADDER – First Grade
FINAL LADDER – Reserve Grade
Tumbarumba            29
Batlow                     28
Magpies                  26
Albury Roos            25
Albury Blues            24
Holbrook                 13
Lockhart                  12
Tarcutta                  11
Adelong                   8
Wodonga                4
Magpie Awards 1975
Least number of points scored: Evan Kelly 3, Wayne Grant 3, Brian Heyward 3, Dave A 3, Don Farrell 4.
Most Field Goals: Scott Sinclair 3, Paul Dennis 2.
Most Replacements: Don Farrell 9, Jamie Martin 5.
Club's Longest Playing Player: Peter Graham 6 seasons. Graham Cole 6 seasons ?? Terry Hodgetts, Dave Polkinghorne and Bill Silvester 5 each.
Best Trainers: Brian Mead and Chris Parkinson.
Longest Continuous Playing Record: Dave Polkinghorne – about 33
Briefest Appearance with club: Paul Dickinson 1, Barry Vogel 1.
Briefest Appearance in First Grade: Peter Shaddock – half a game at end of season; Scott Sinclair – last 10 minutes of semi)
Most Games in Reserves: Peter Shaddock 18.
Most Games in Firsts: Ron, Bill, Wayne, Dave – 18 each.
Most games for the club in 1975: Dave, Steve and Howard – 20 each.
Best Actor: Jamie Martin
Most tries in one game: Mike Savage – 5
Most Rub Downs: Moses
Most excuses for missing training: Wayne Grant
Most Injured: Ray Gear and Rod Copeland
Most spectacular game: Hoffman 4 tries to defeat Blues and win a place in the finals!
2nd: First defeat of Tumba at Tumba.
First grade scored 100 tries for the season.
Only players sent off during the season: Max Bloomfield and Paul Dennis.
Best Supporter: Joy Ball
Player with the nicest girlfriend: Bill Lotter
Player who falls in love the most: Paul Dennis and Bill Lotter
Most injured Player of the year: Hodgie on trip away.
We win, we win again
We thank our striving team
Albury Magpies
Our love for you
No one can near approach, can near approach
No one can near approach
MAGPIES
 (To the tune of Marseilles)
Another anthem (tune Goodnight Irene)
Saturday night I stayed sober
Sunday went down to the ground
Went to see the Albury Magpies play
The Opposition didn't make a sound
Albury Magpies
Albury Magpies
Magpies to Win, Magpies to Win
Albury Magpies to win
(Words concocted by Paul Dennis and Billy Lotter)
(Thanks to Howard Leader for sending the words in)
Group 13 Scorers 1975 season (unofficial)
Ray Lynch               195
Gary Hiscock           156
Neil Bulger              144
Bill Butz                   140
Bill Silvester            125
Peter Purtell            124
Steve Cotton           112
Rick Hamilton          99
Peter Richards        99
Ian O'Connell          91
Mike Savage           90
Group 13 Tries 1975 (unofficial)
Peter Richards        33       (Group record)
Rick Hamilton          33       (Group record)
Mike Savage           30      
(Mike broke group record earlier in the season with 29 tries from the first 14 games according to Gerry Ryan Daily Advertiser Wagga, and was then injured)
Ian O'Connell          27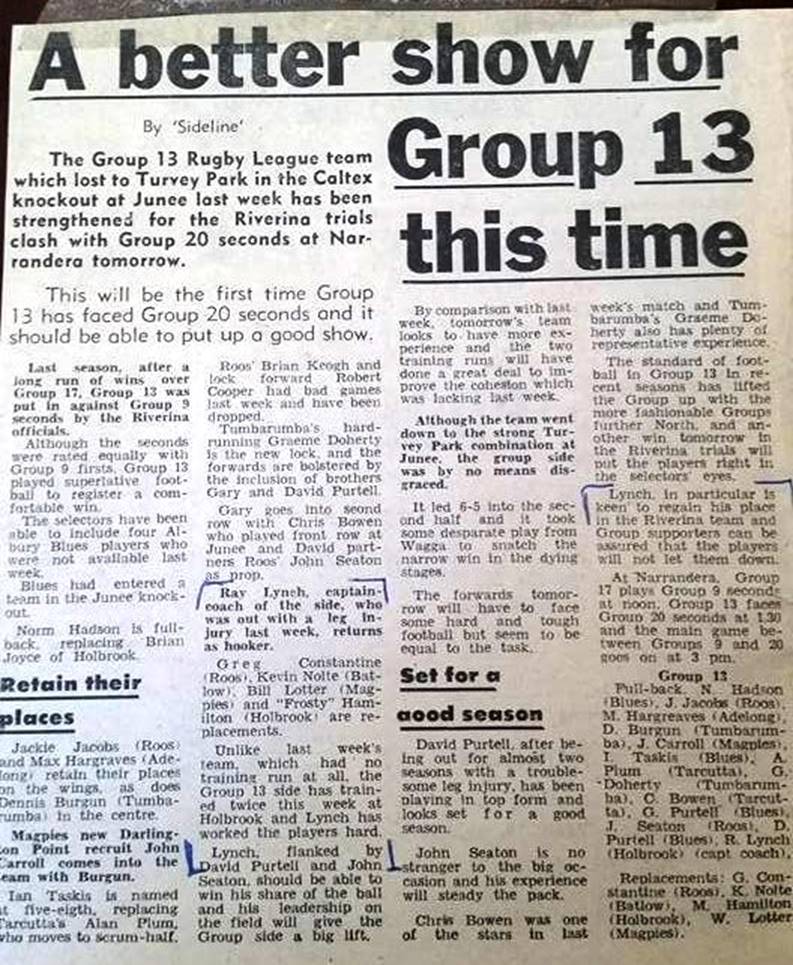 Ron Carroll and Billy Lotter were selected n the Group team (bottom right)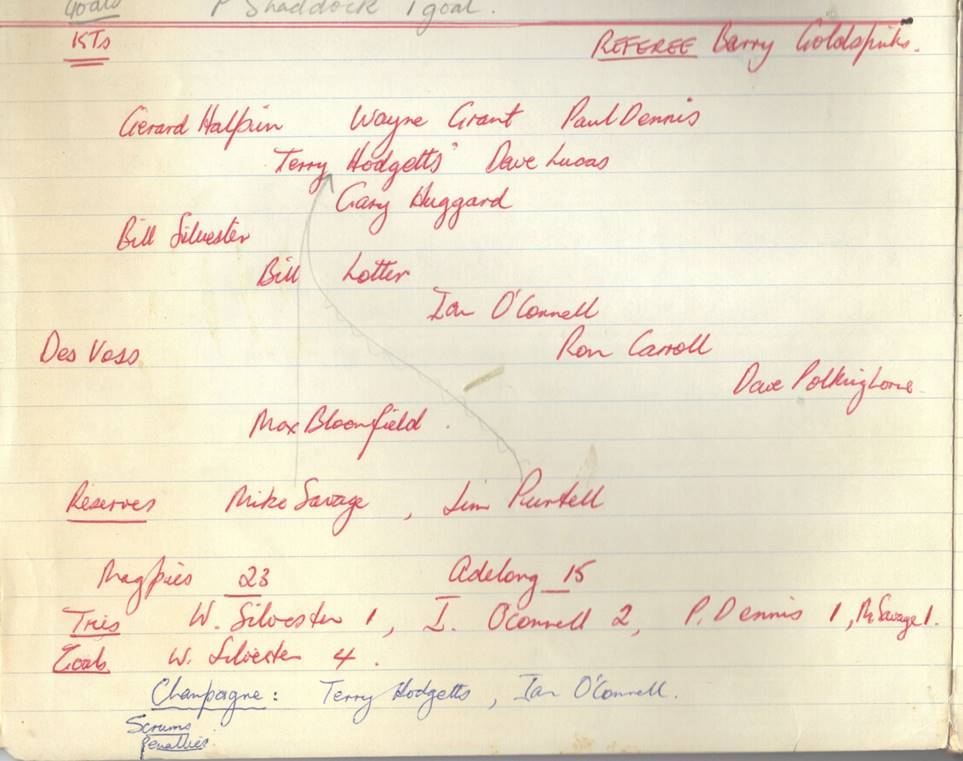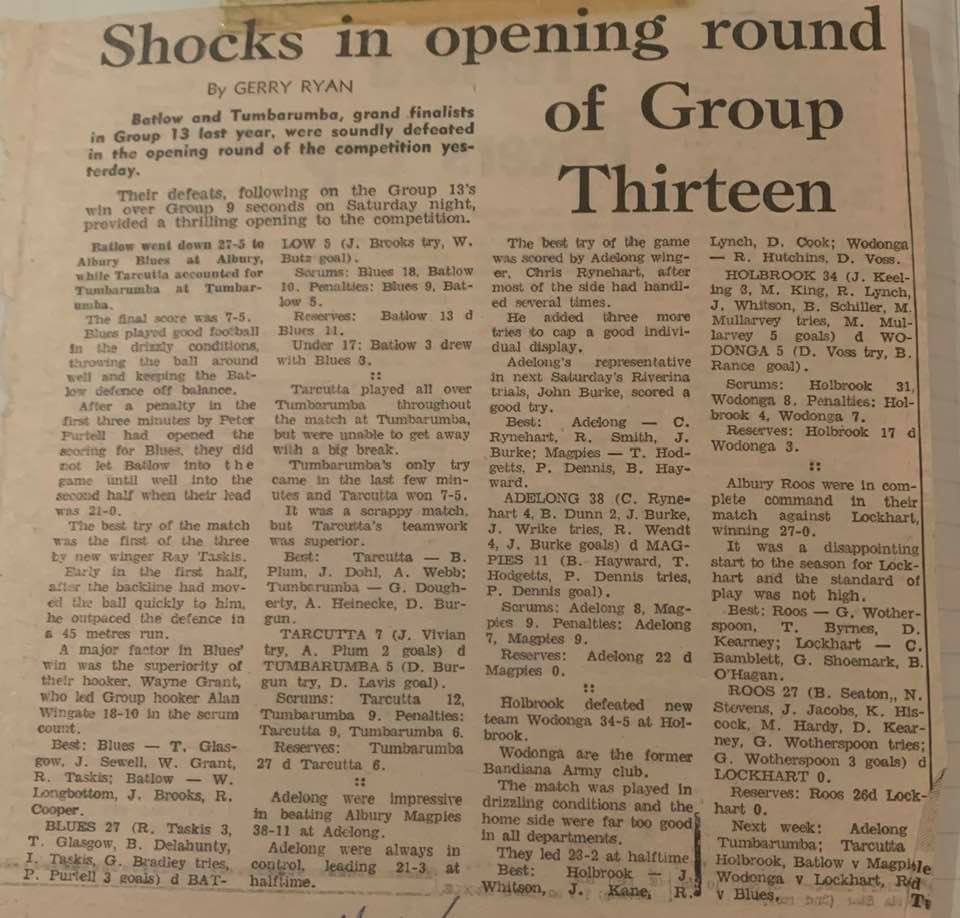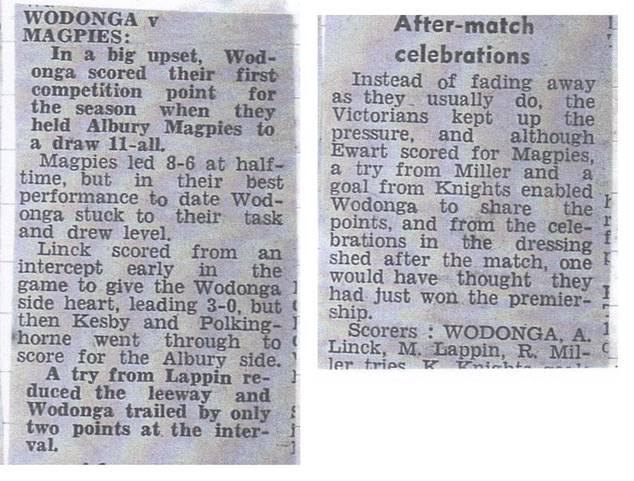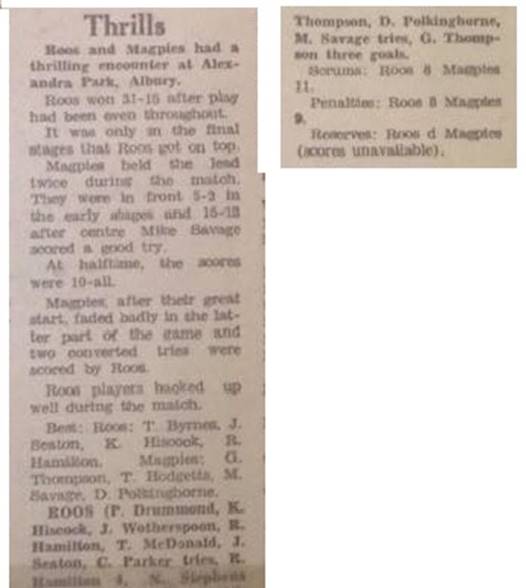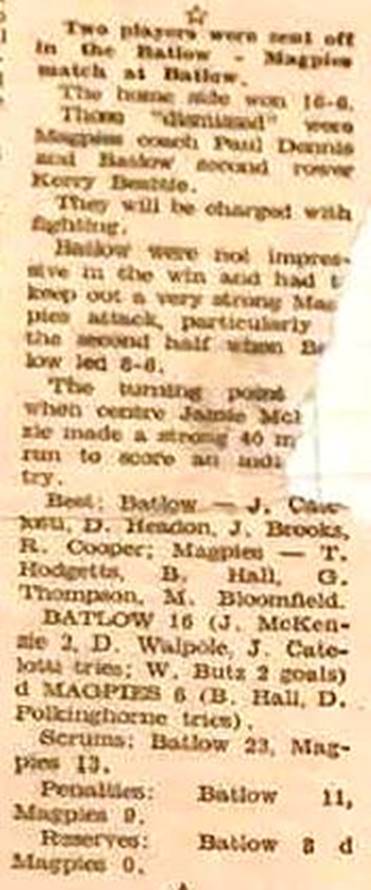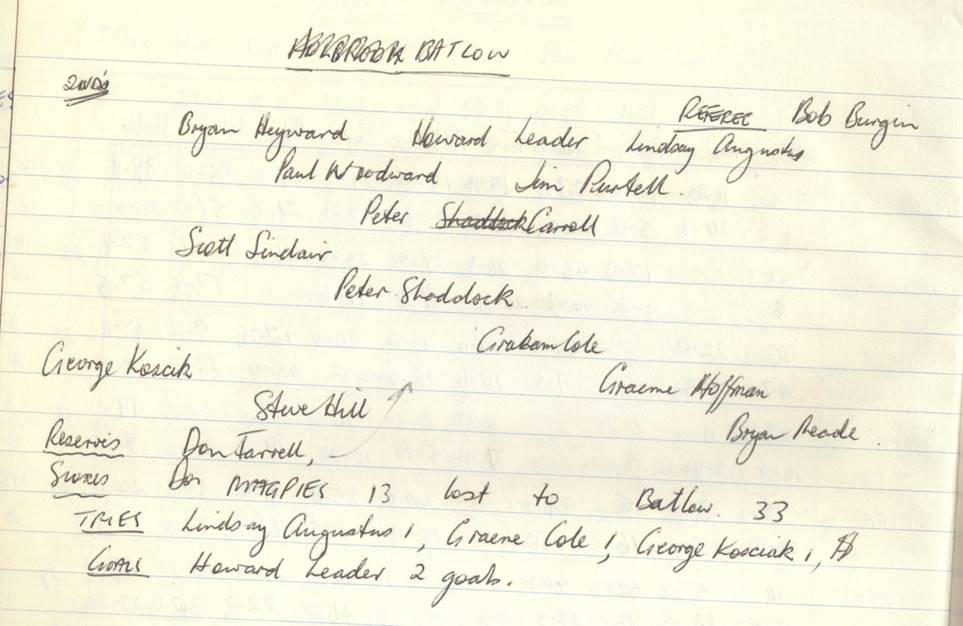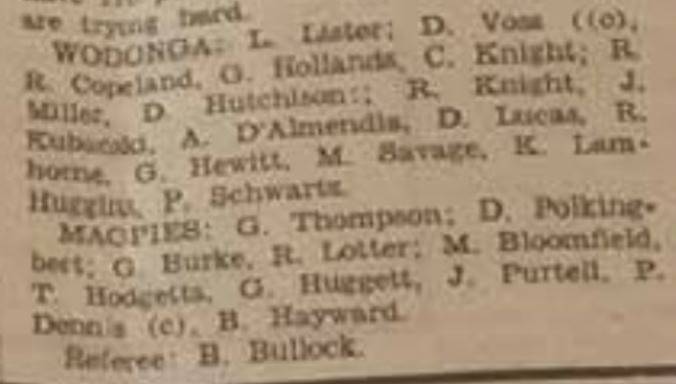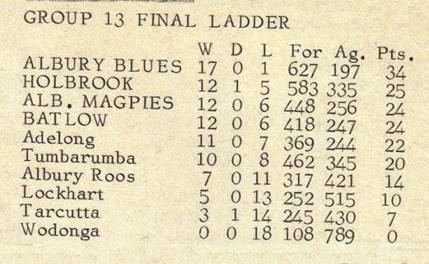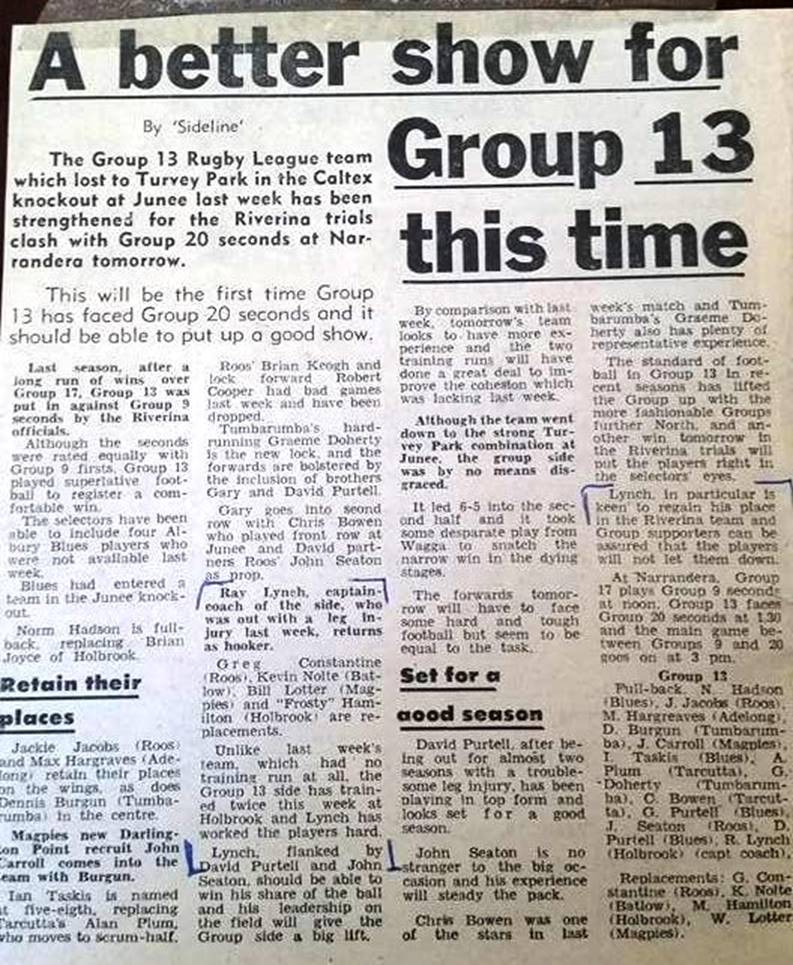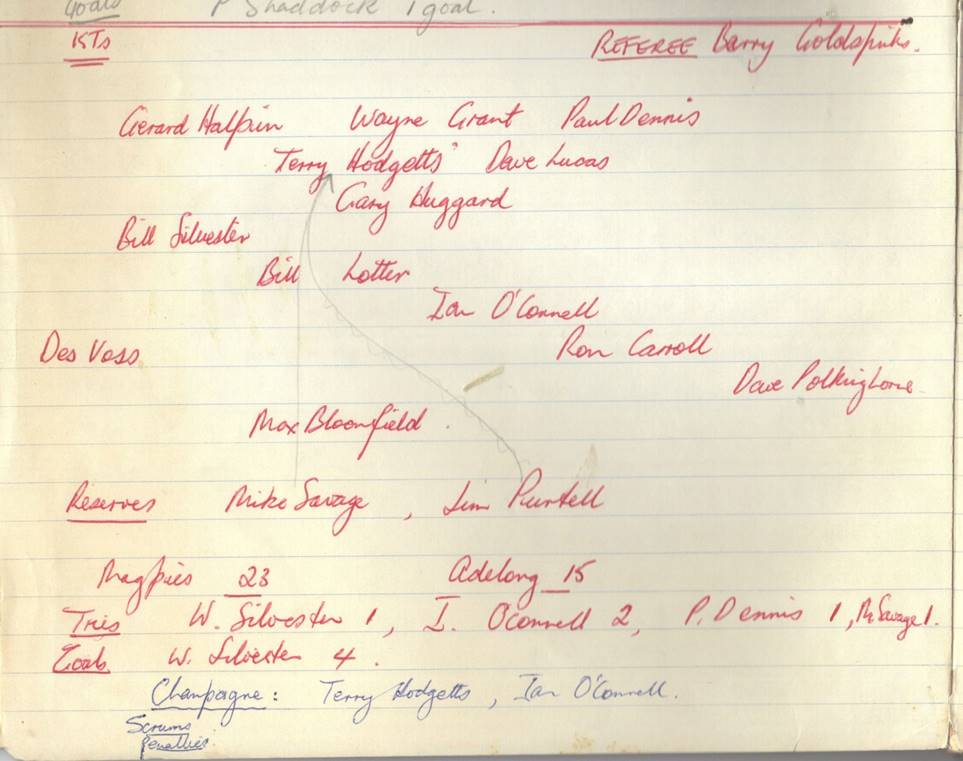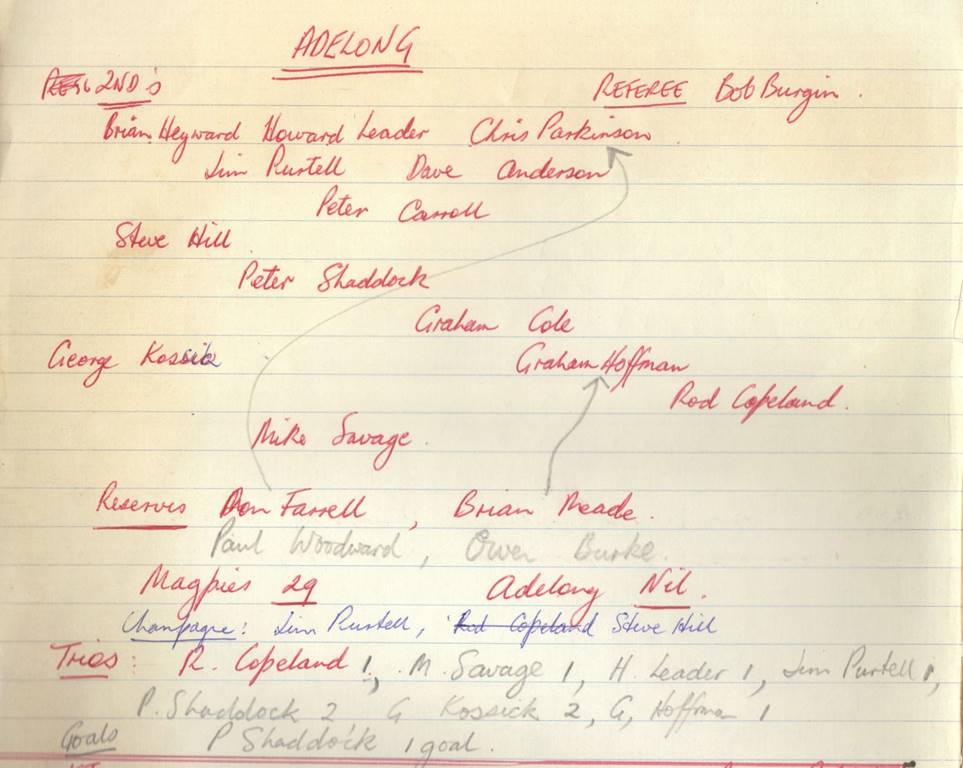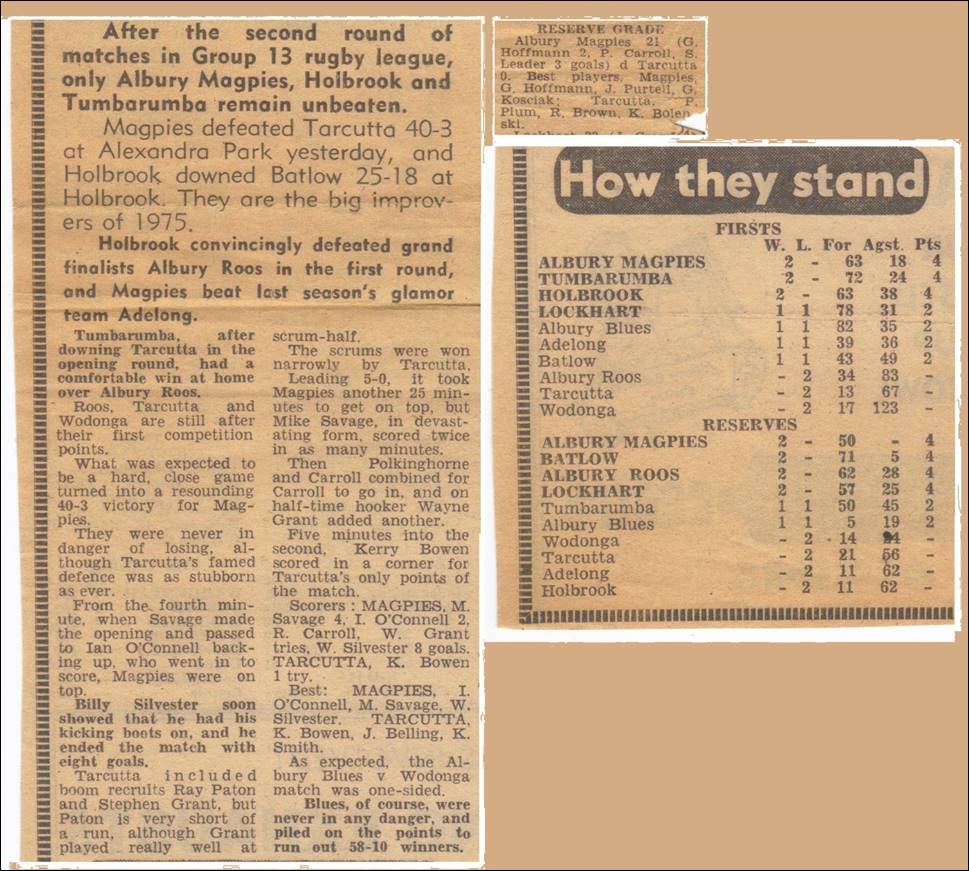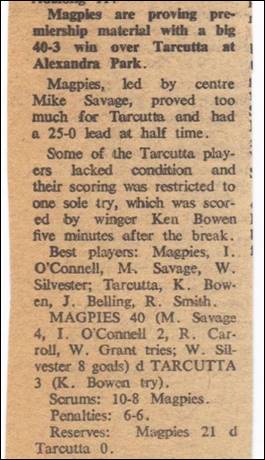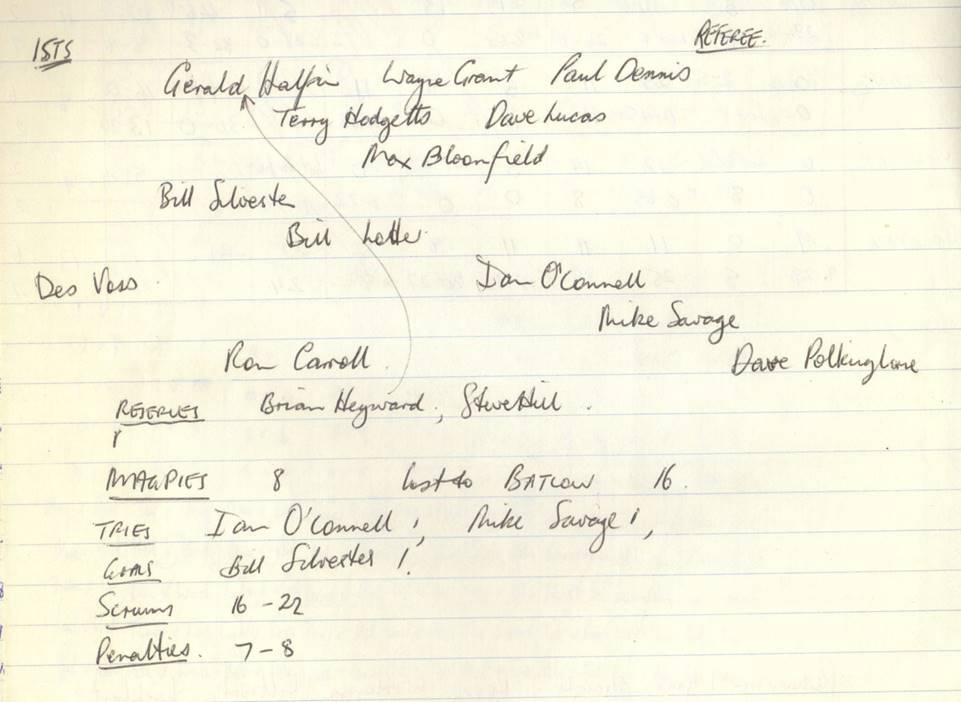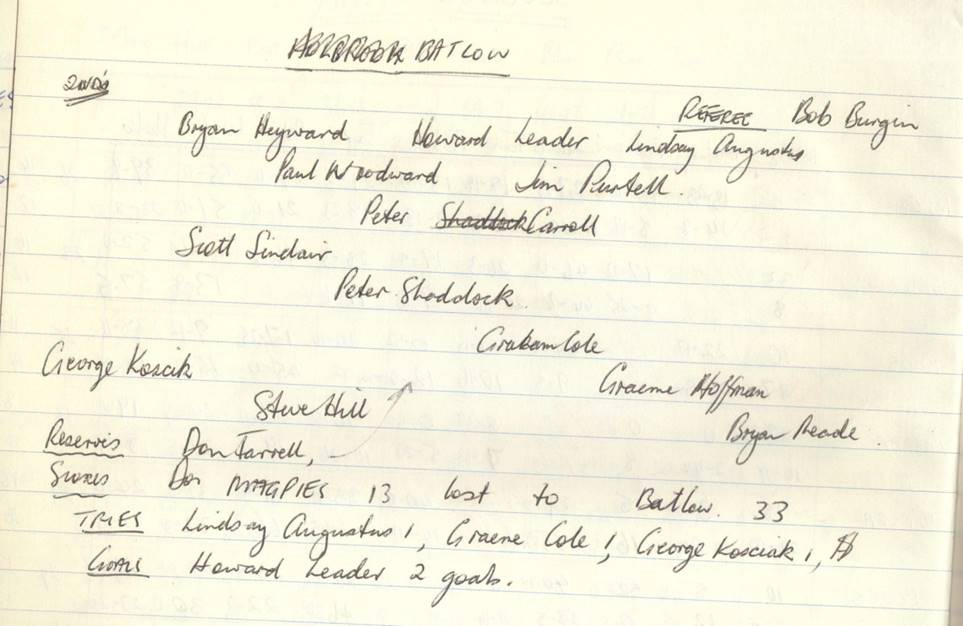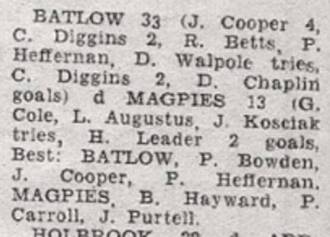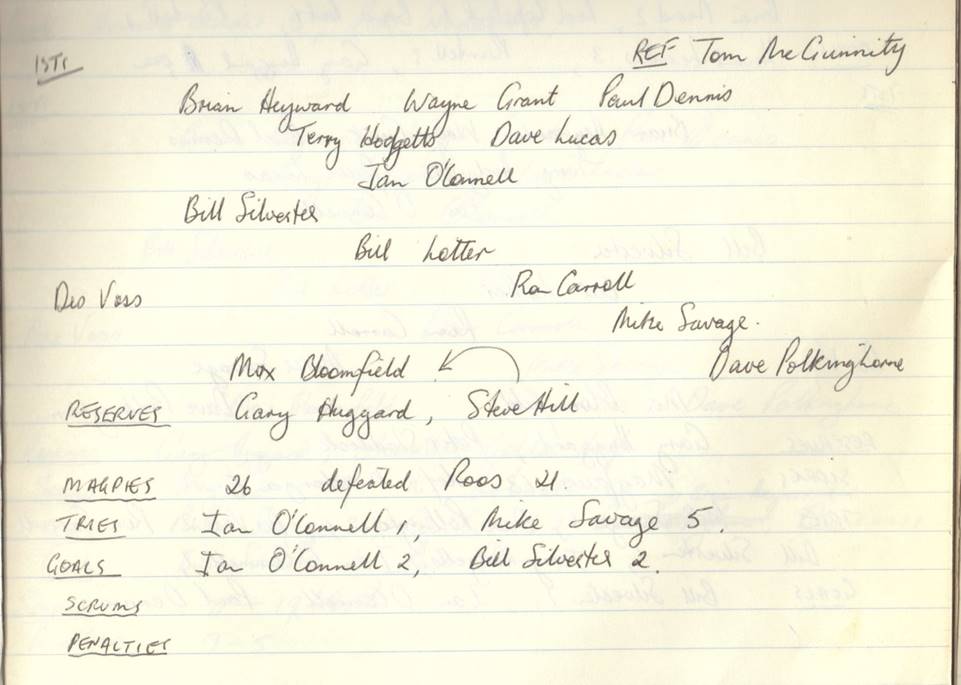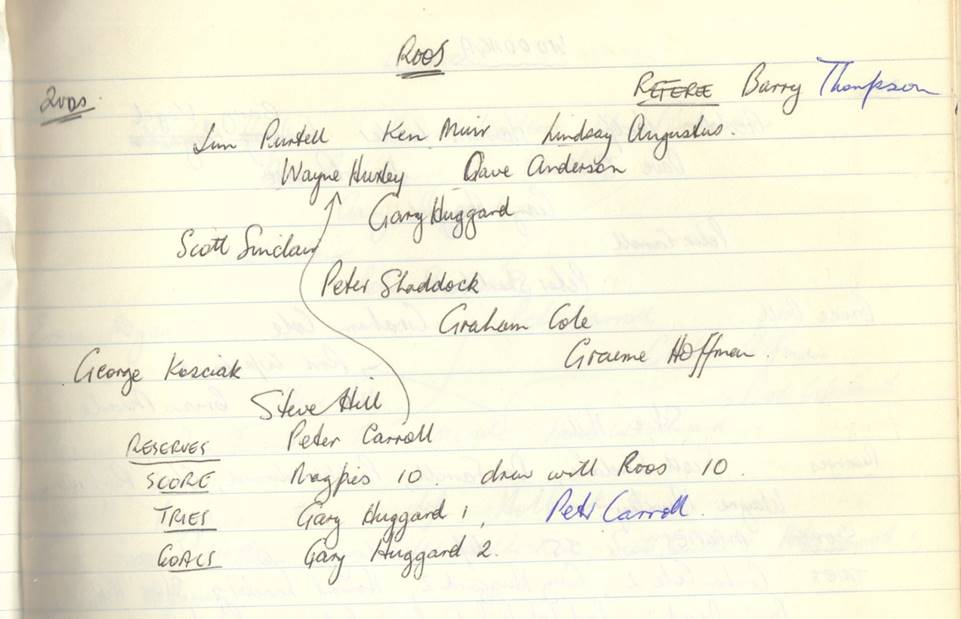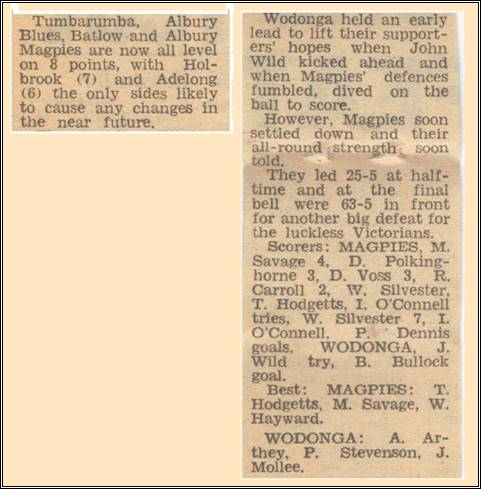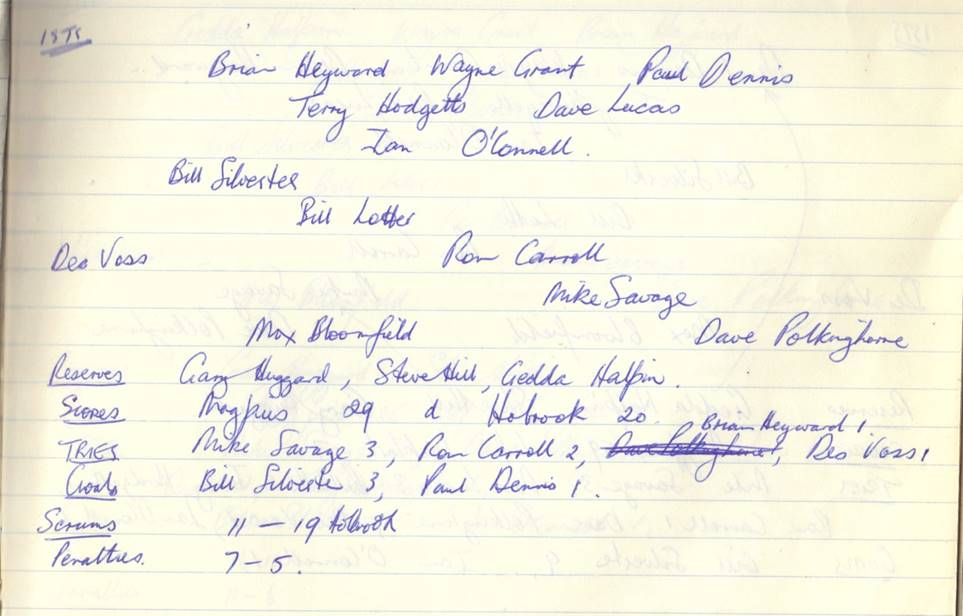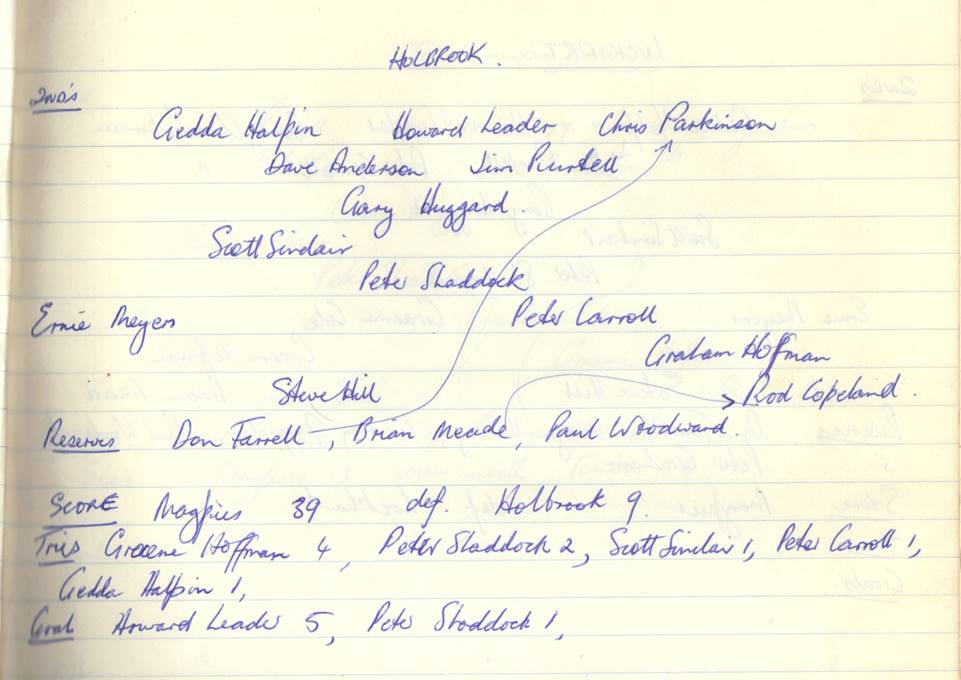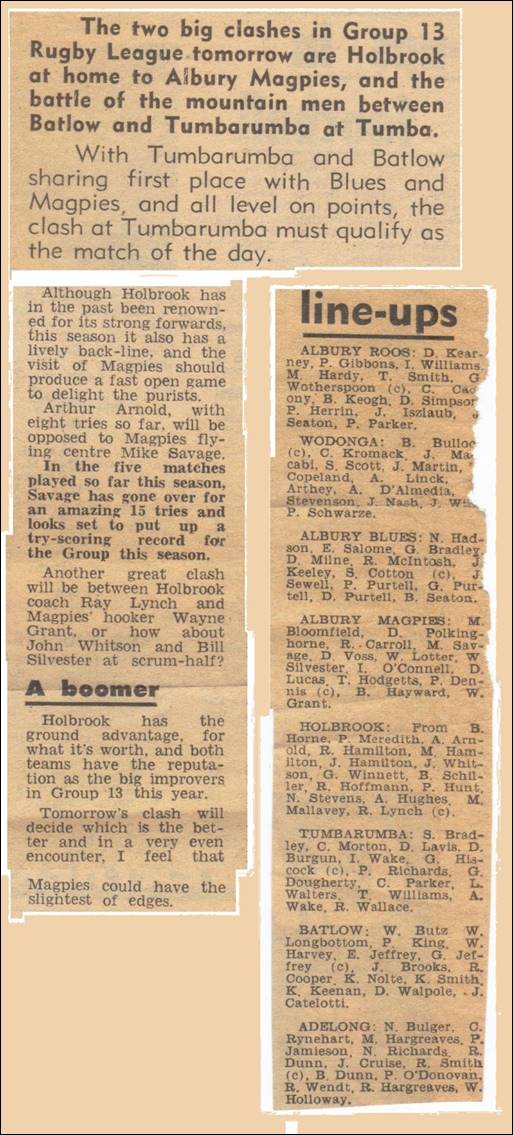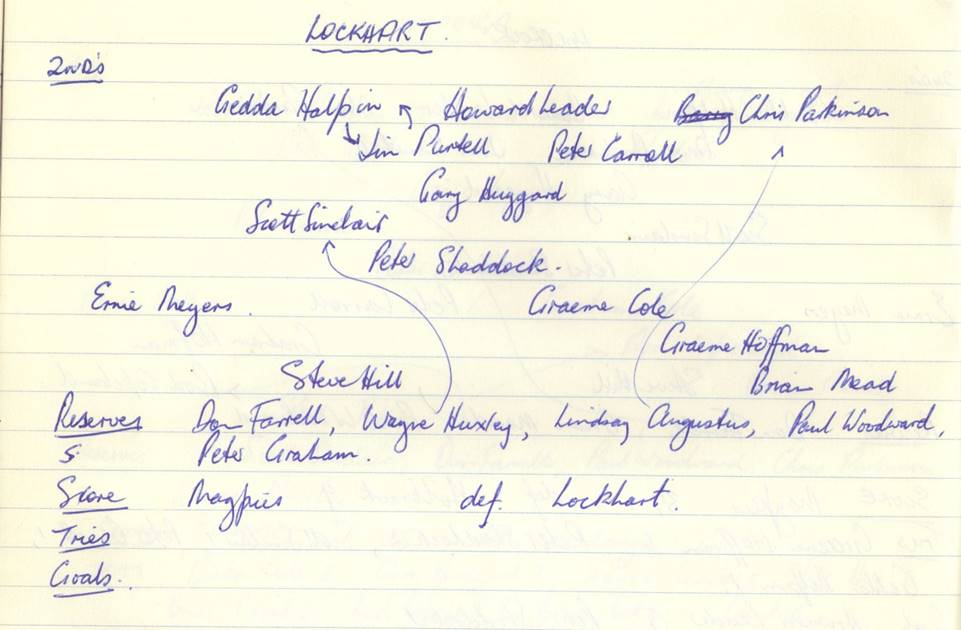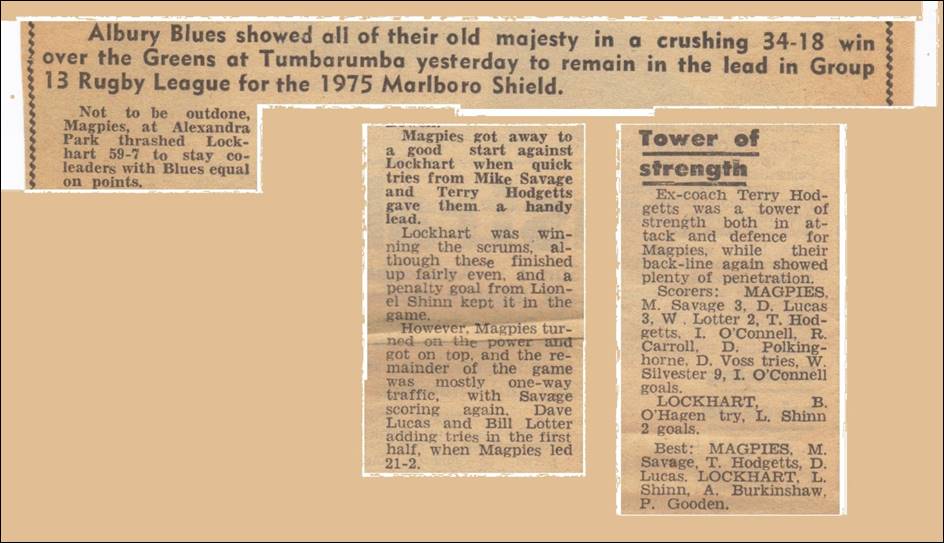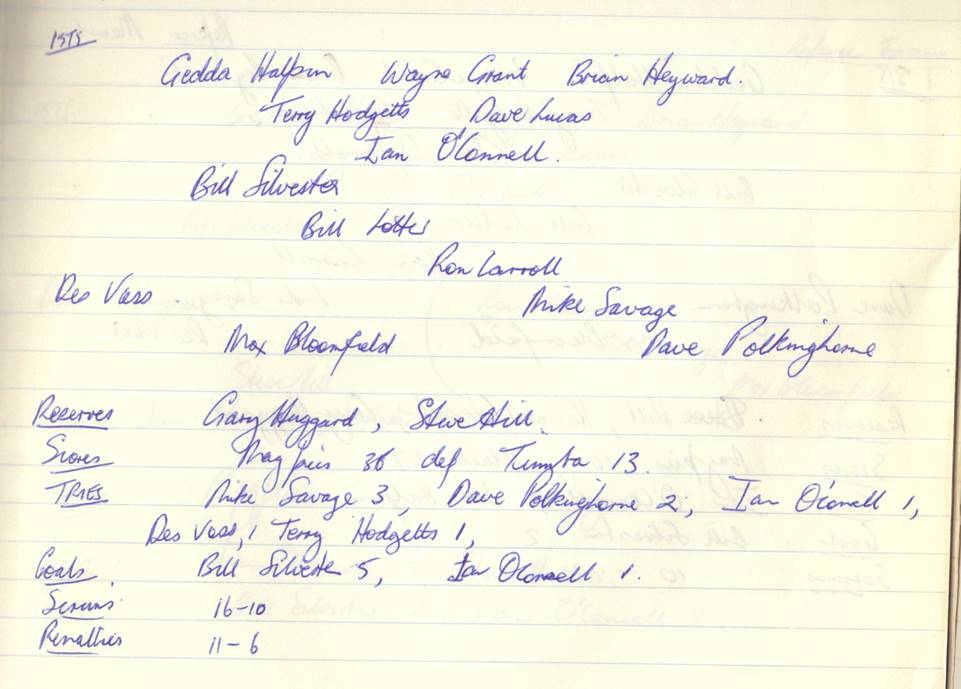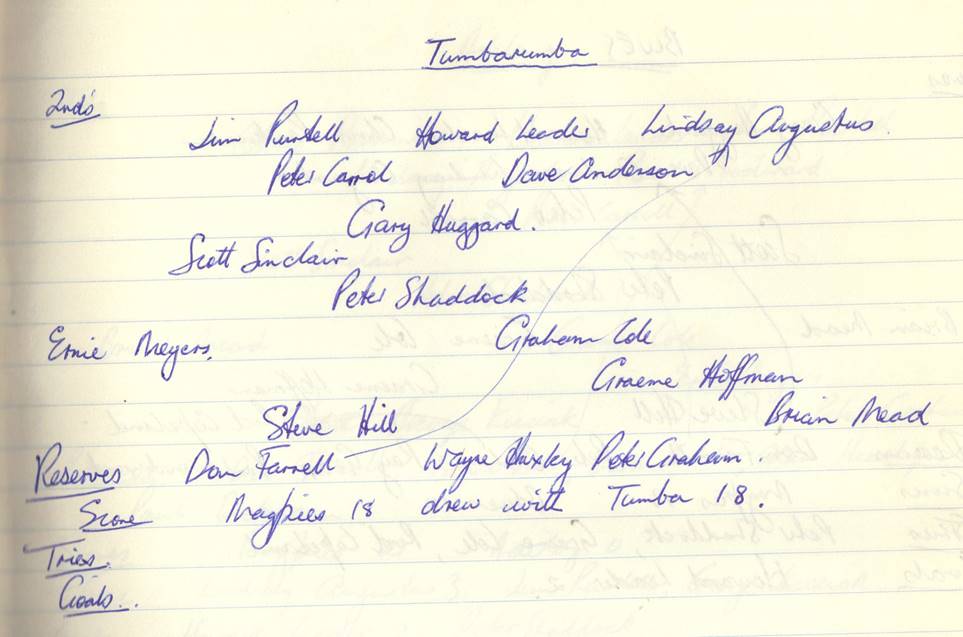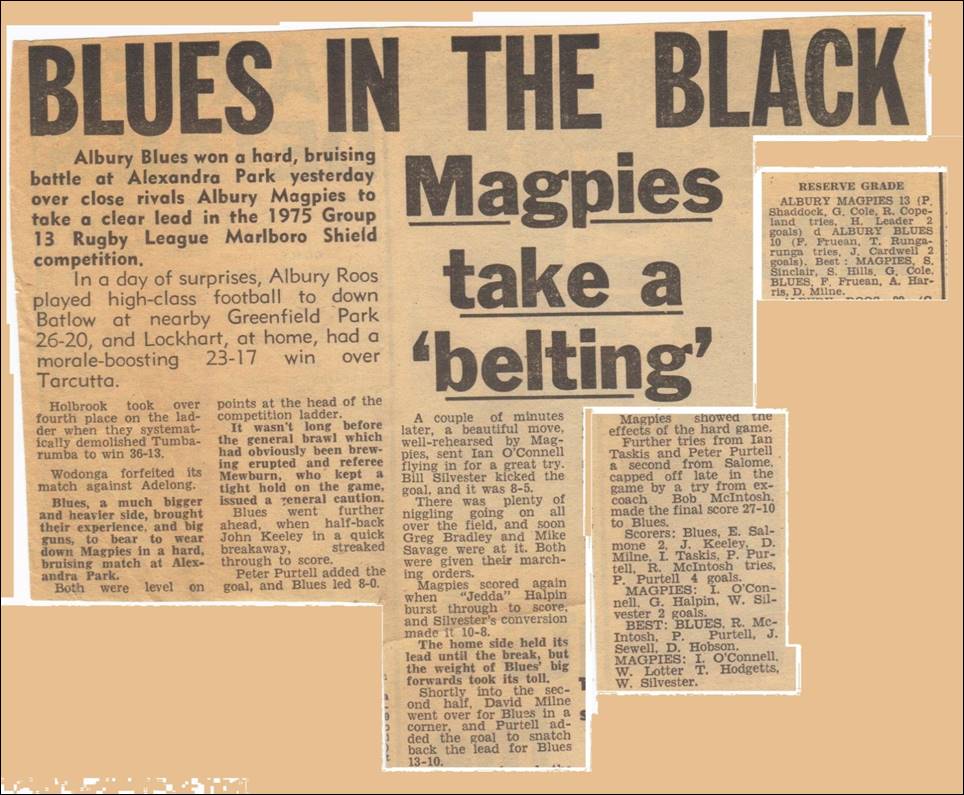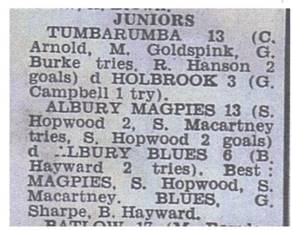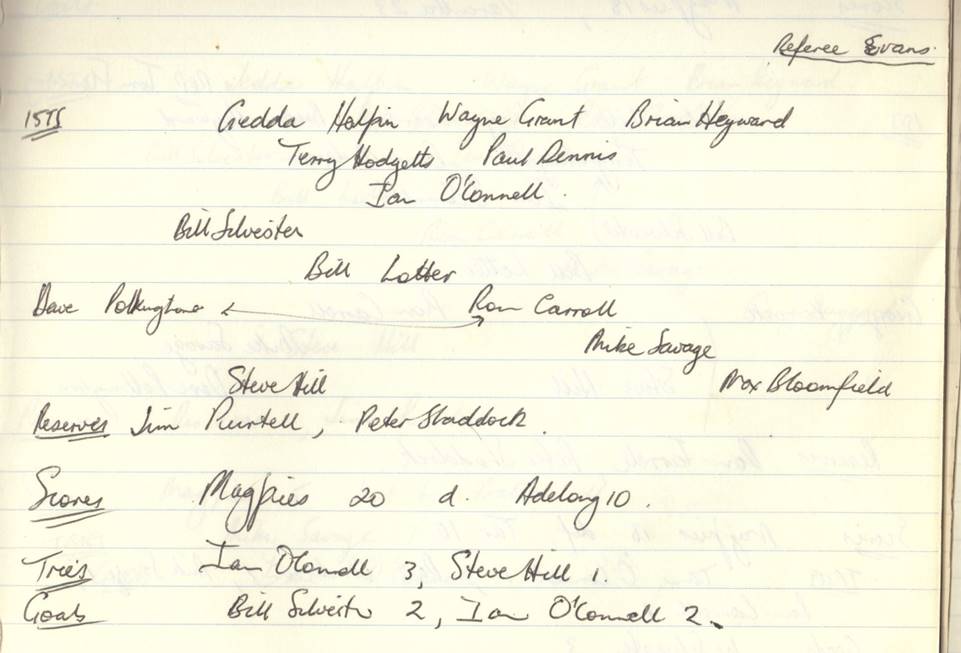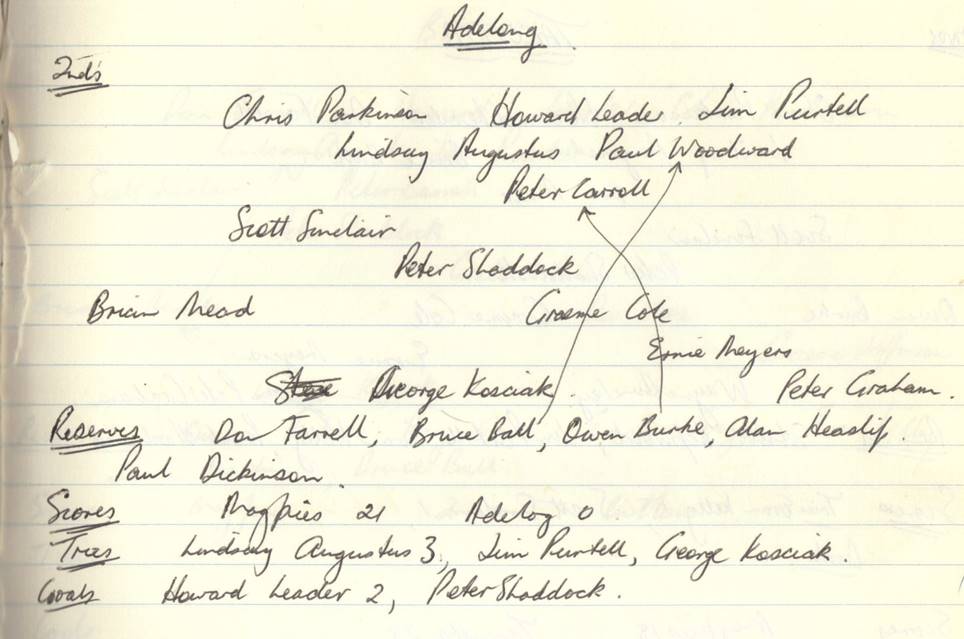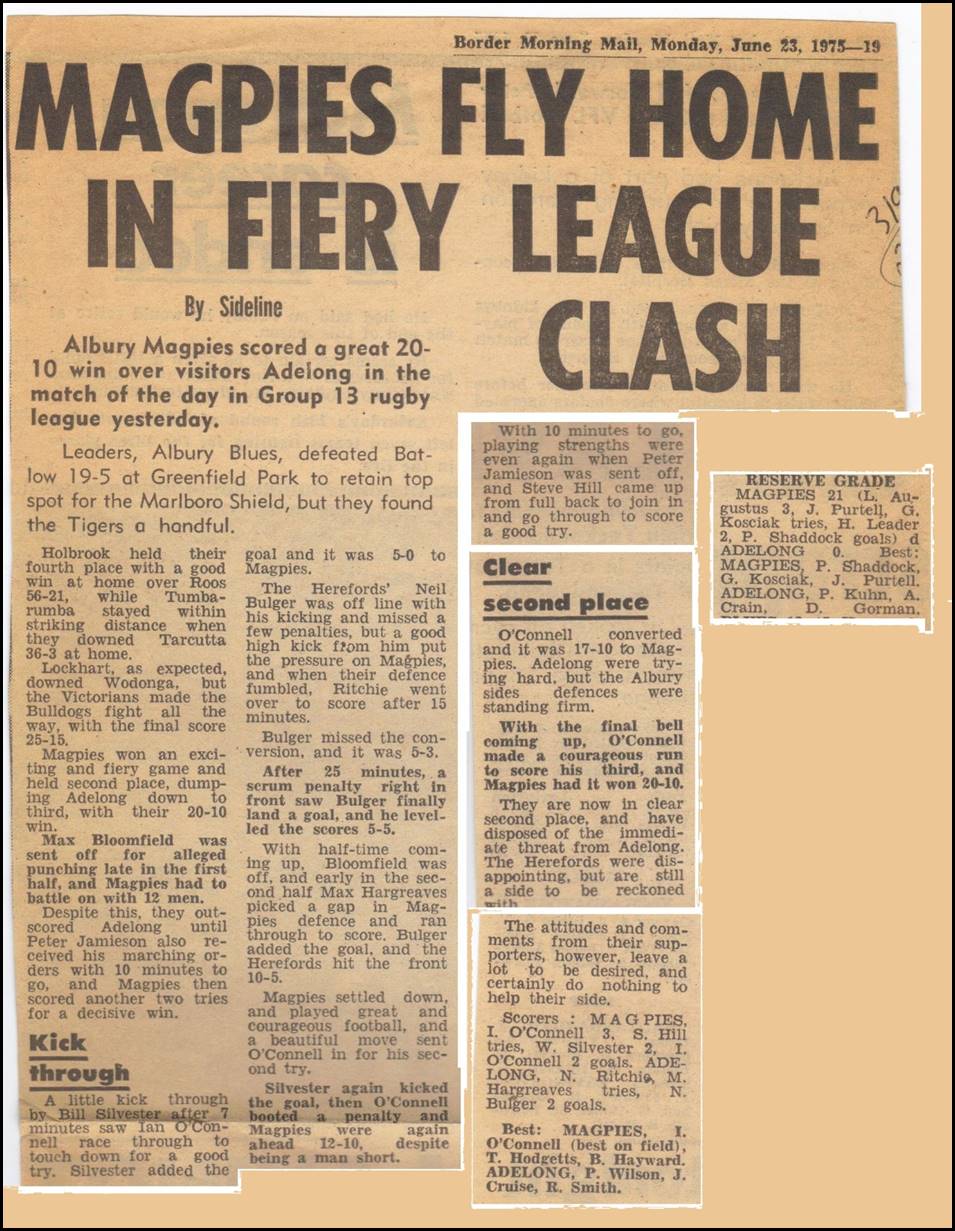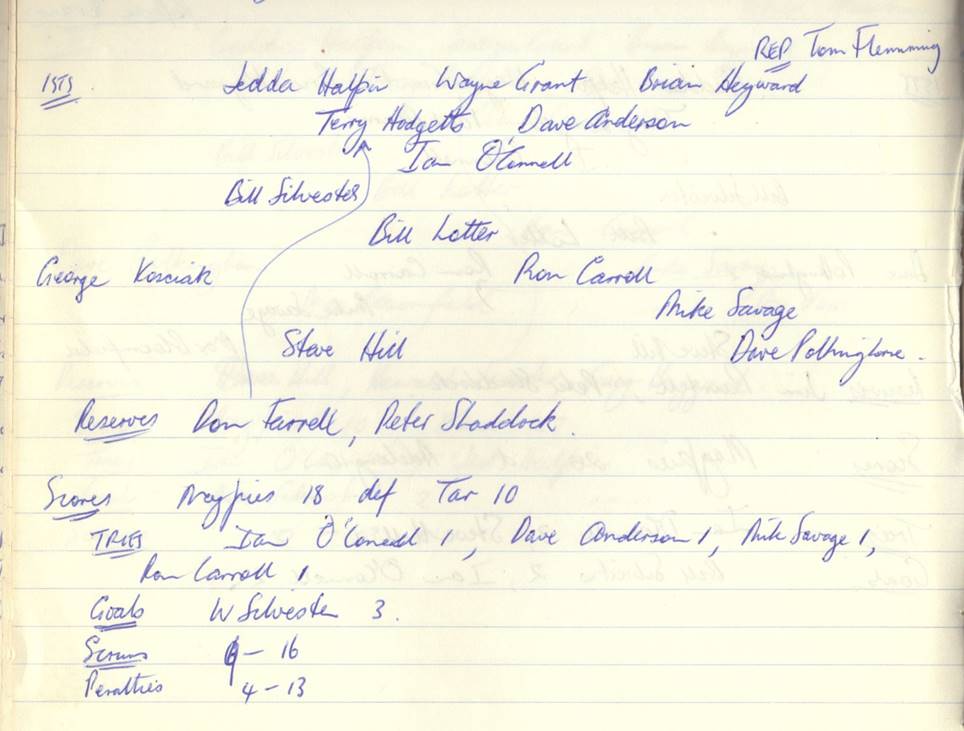 Dave Lucas far left.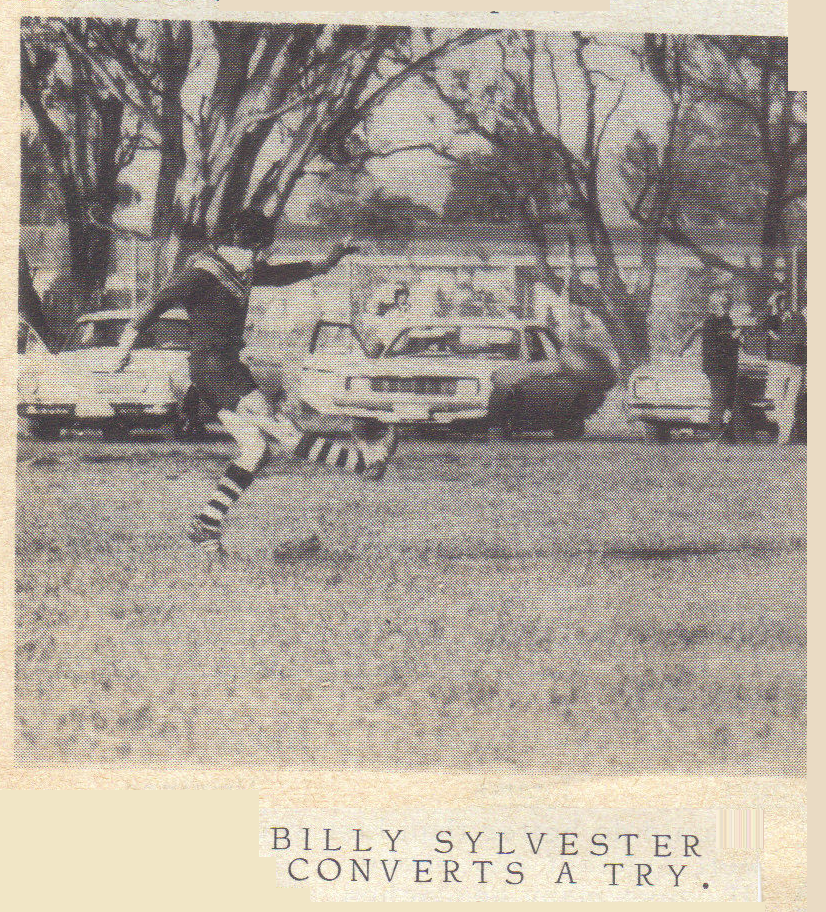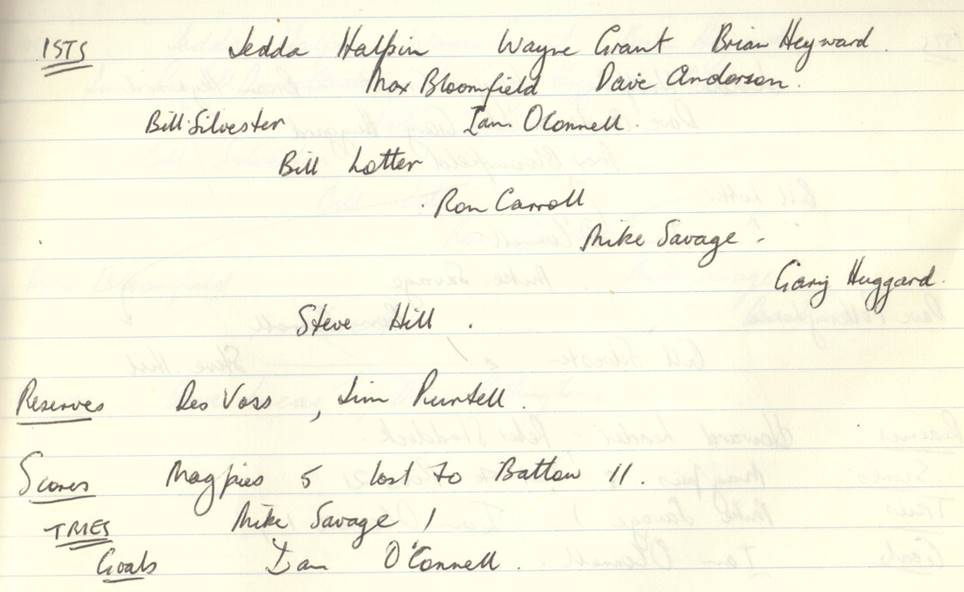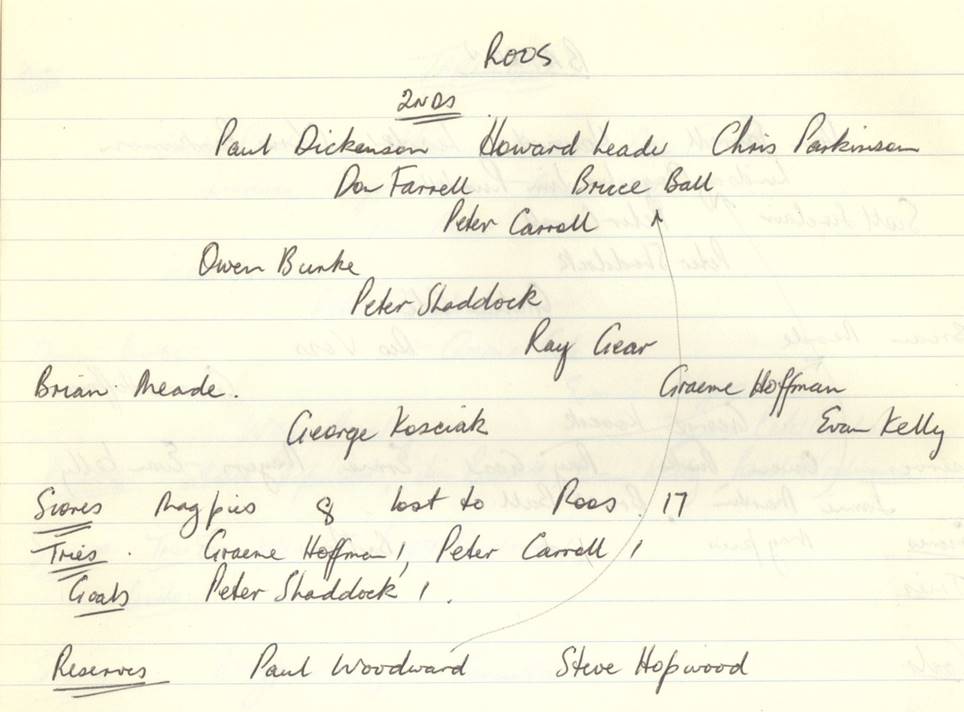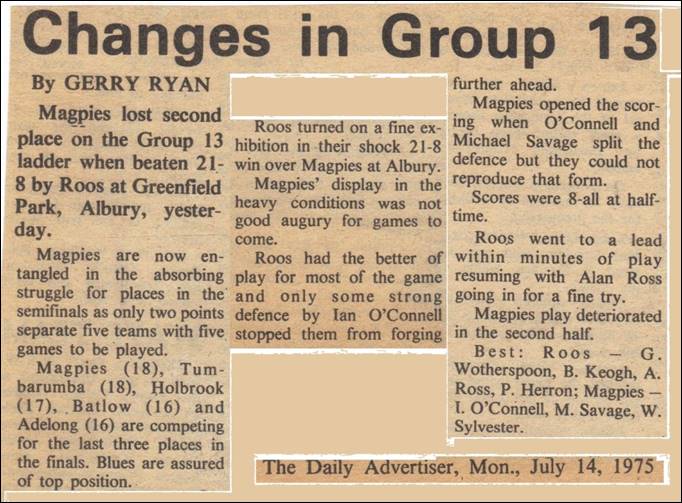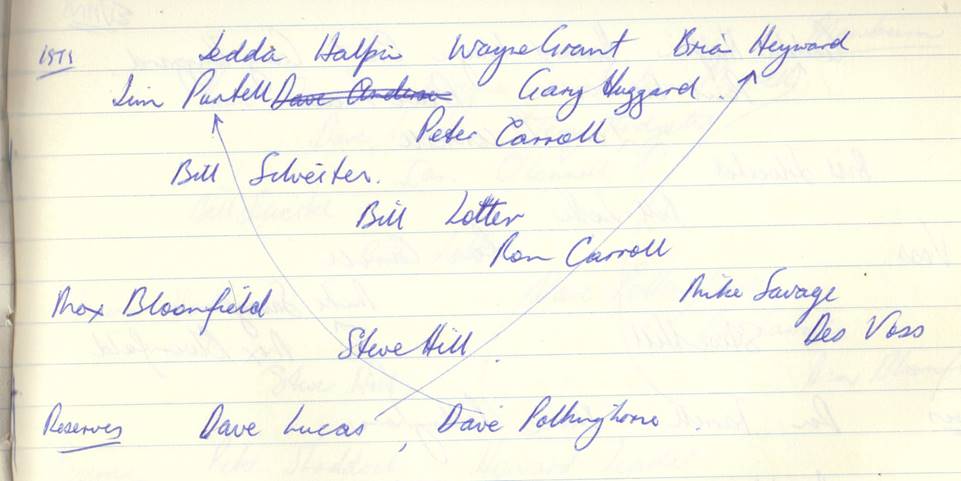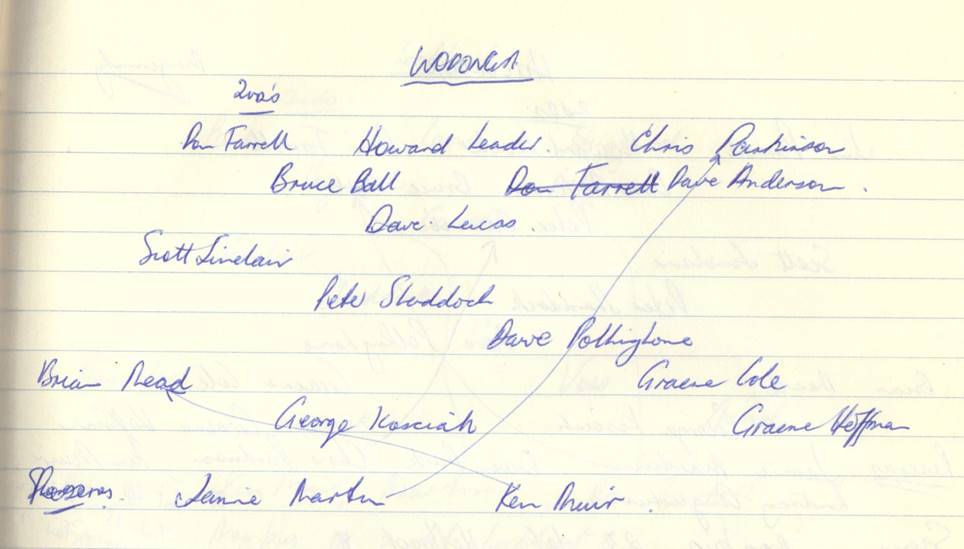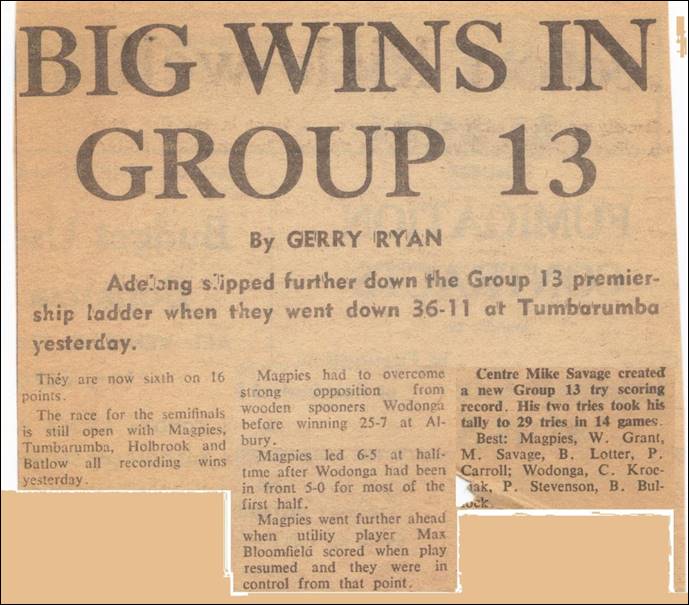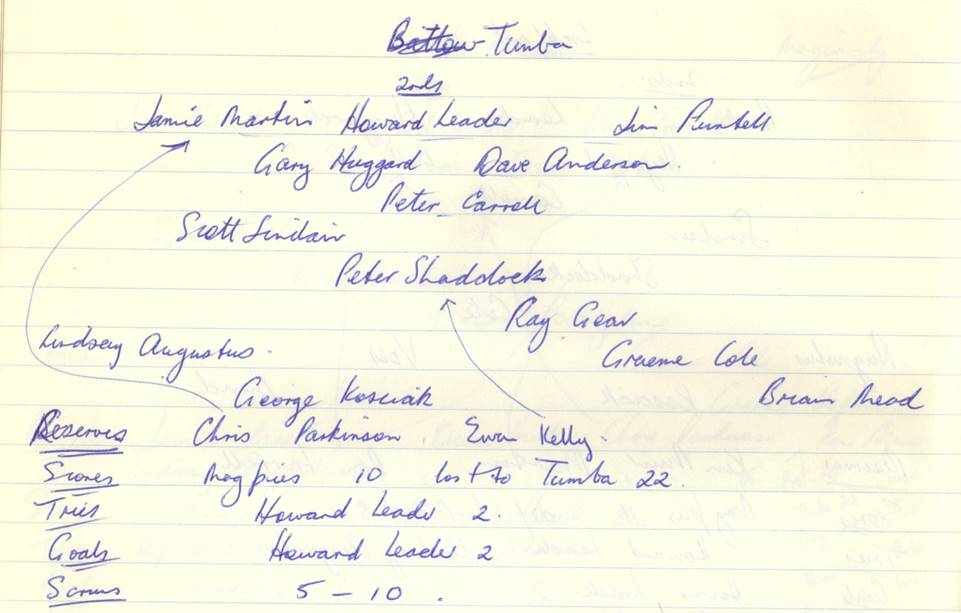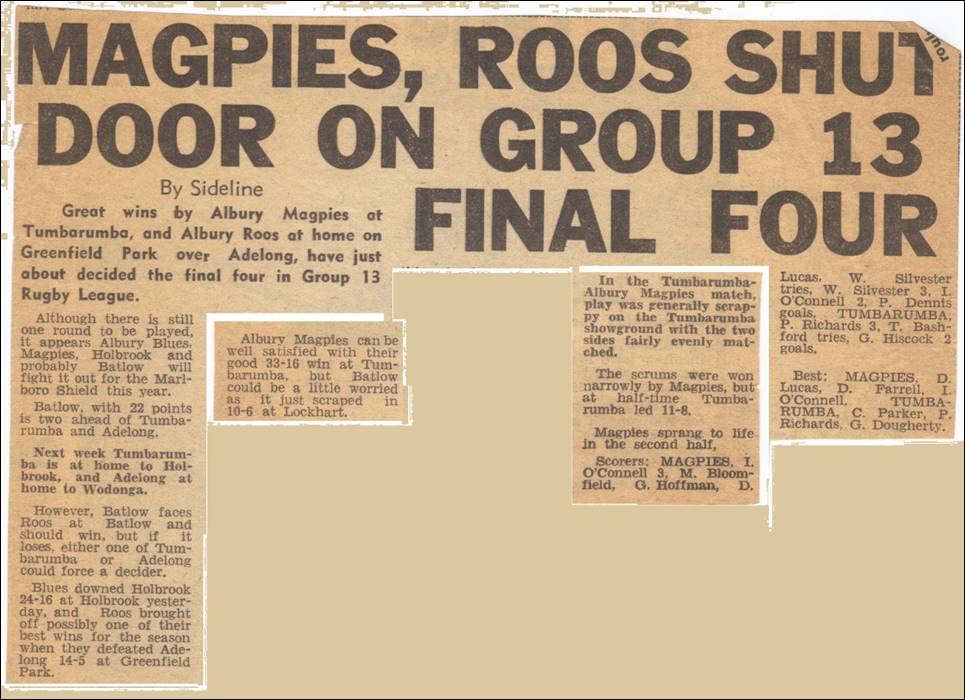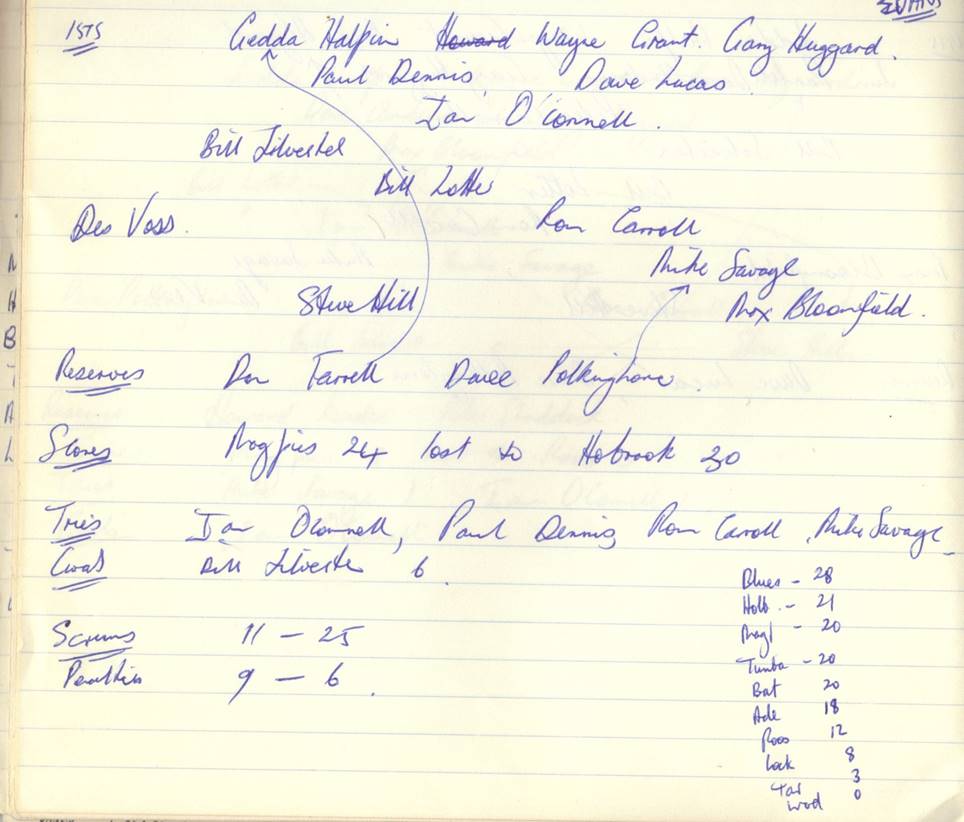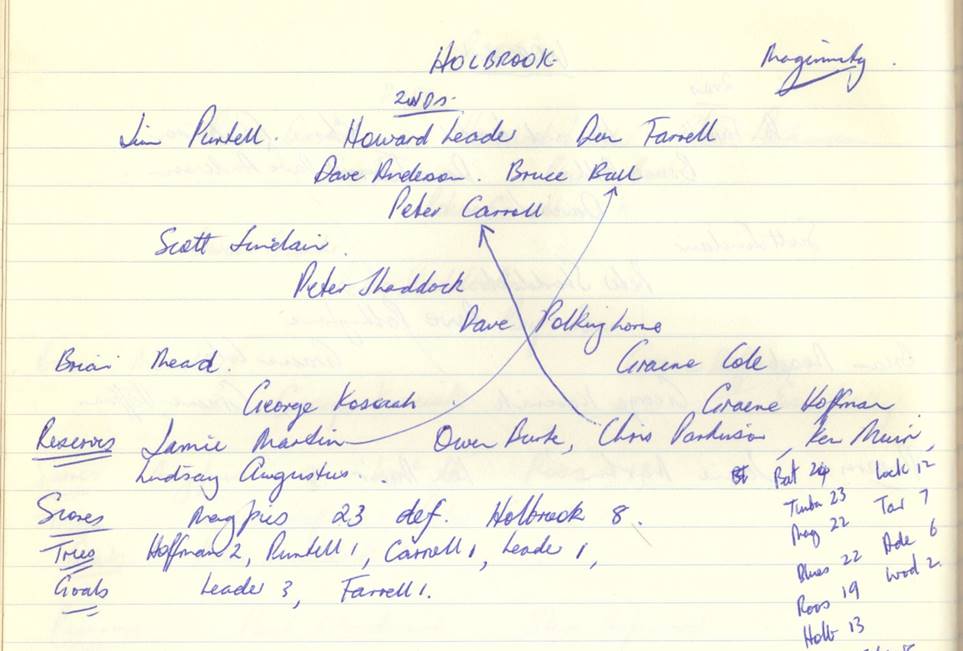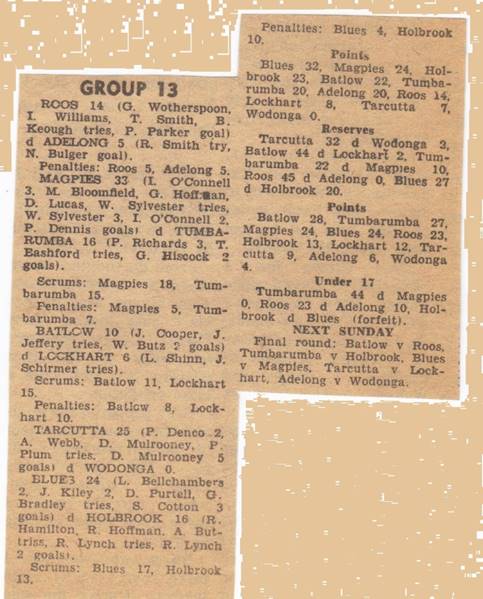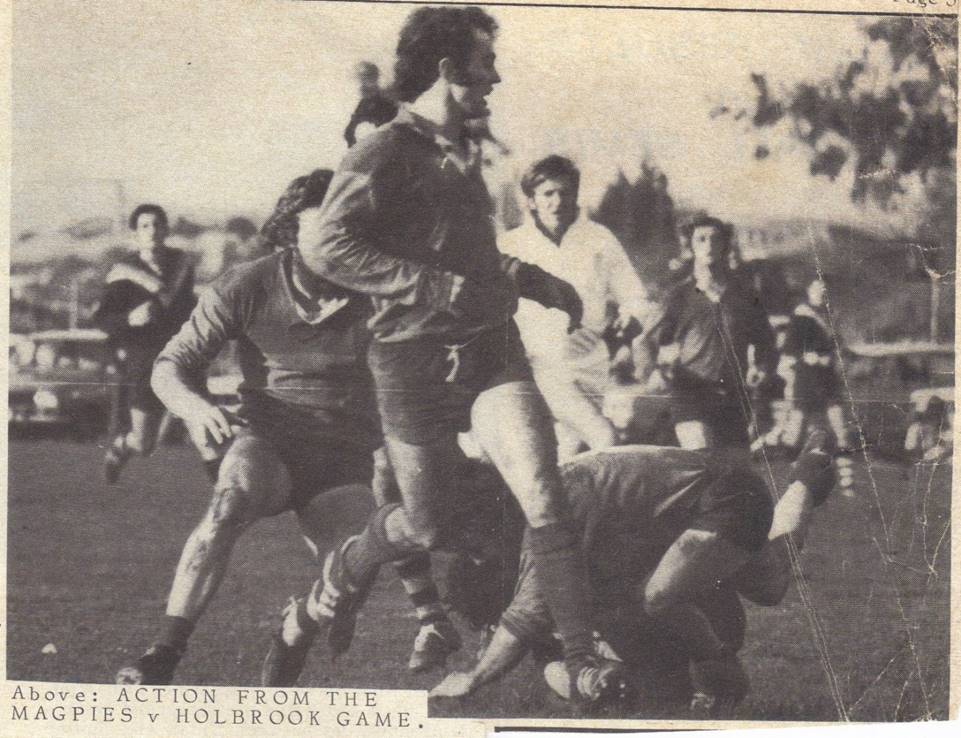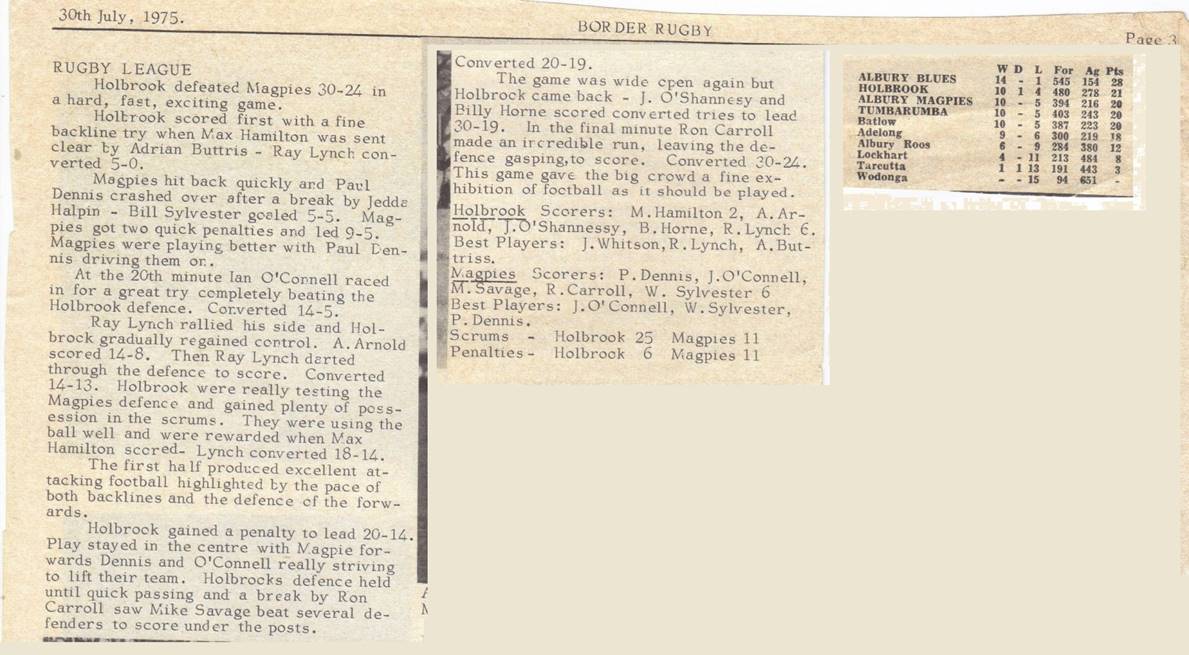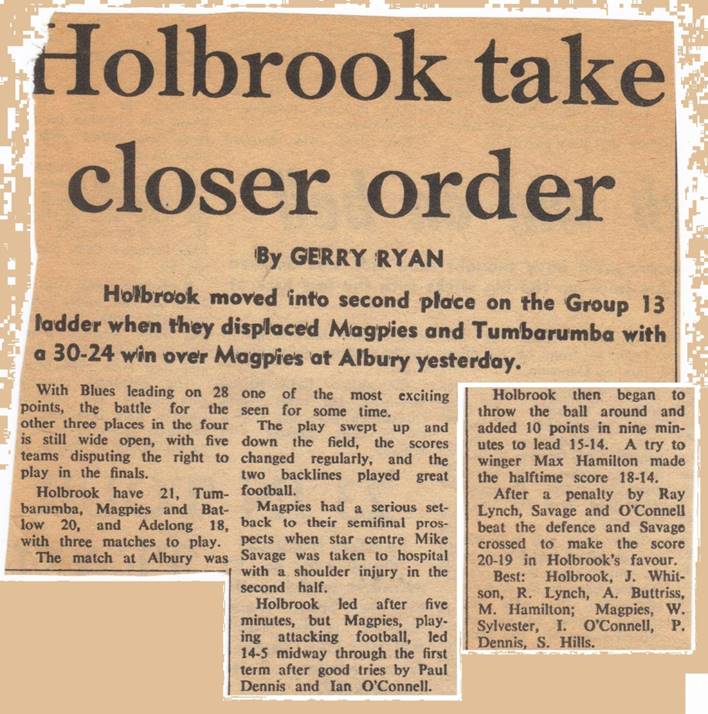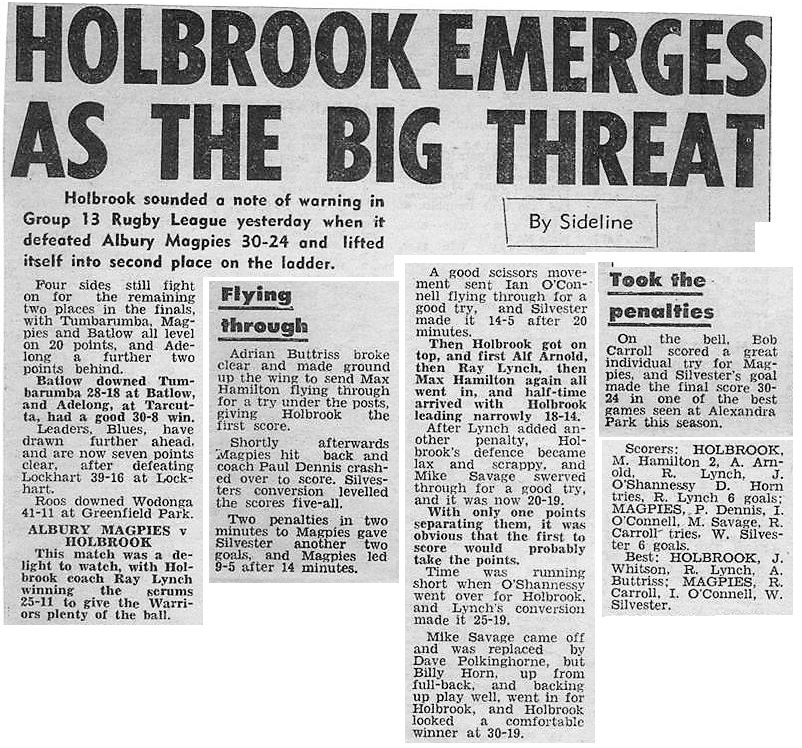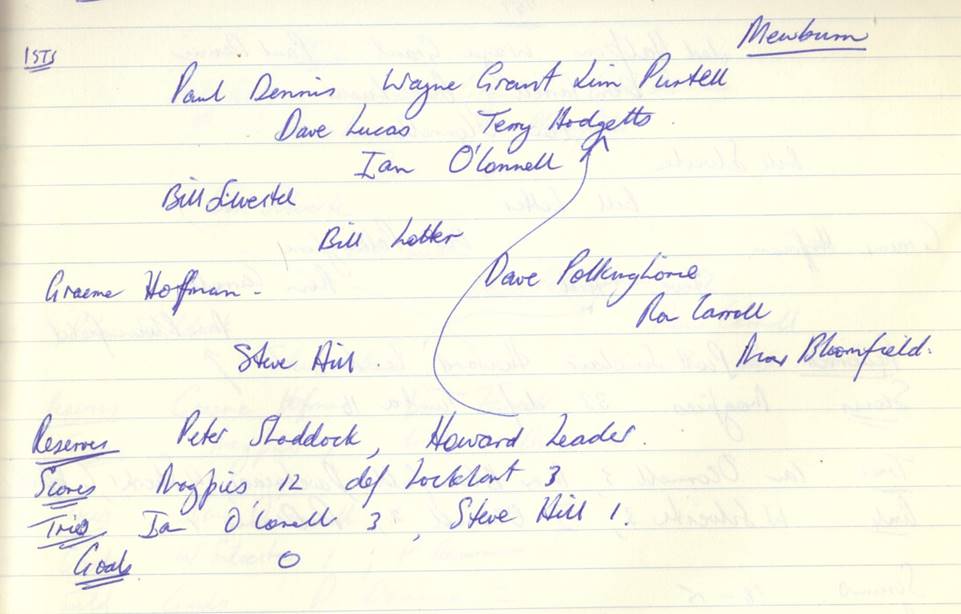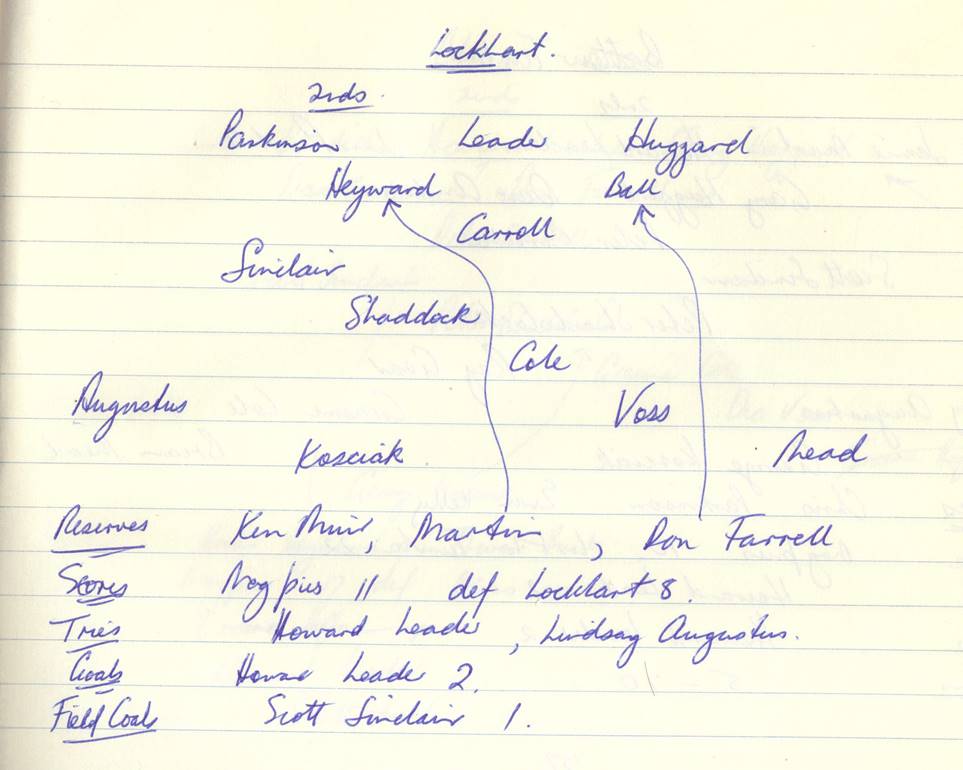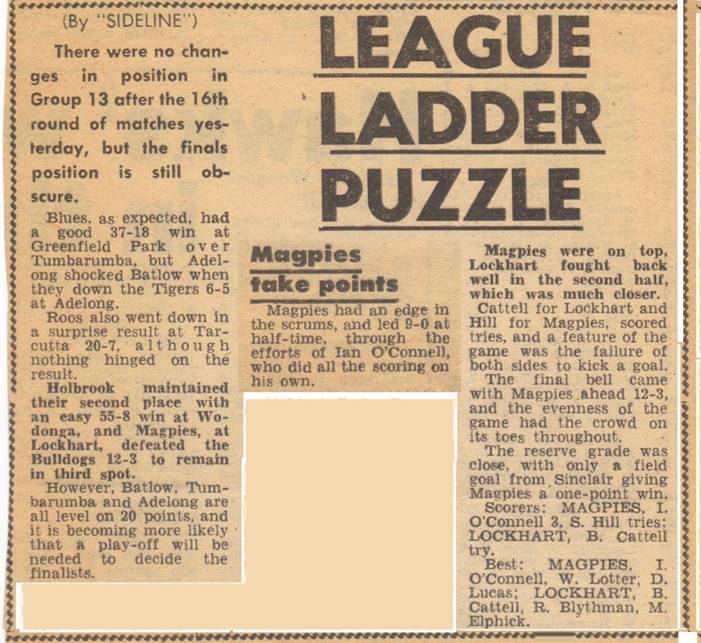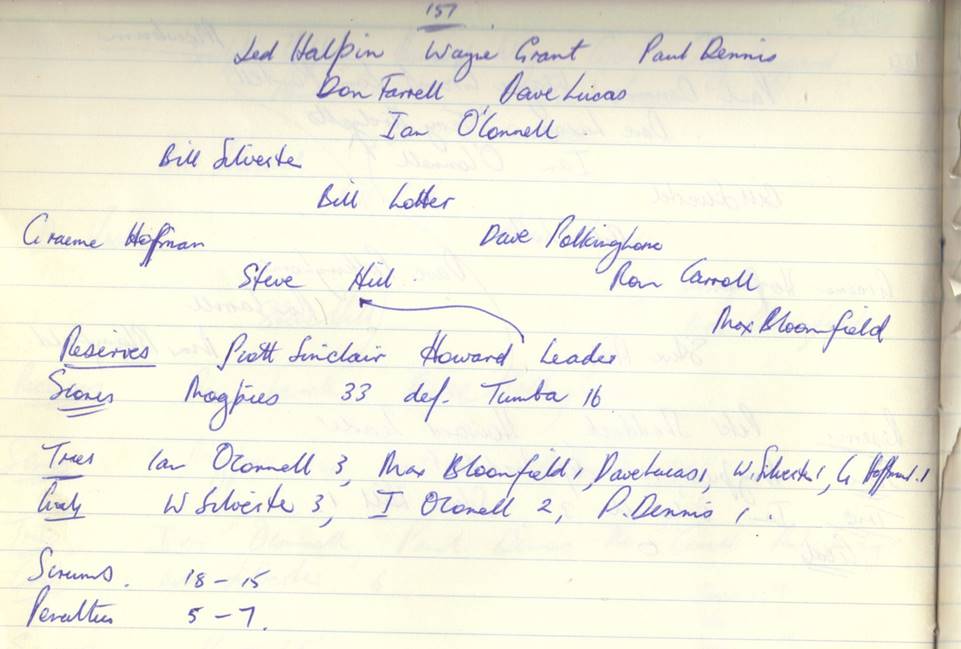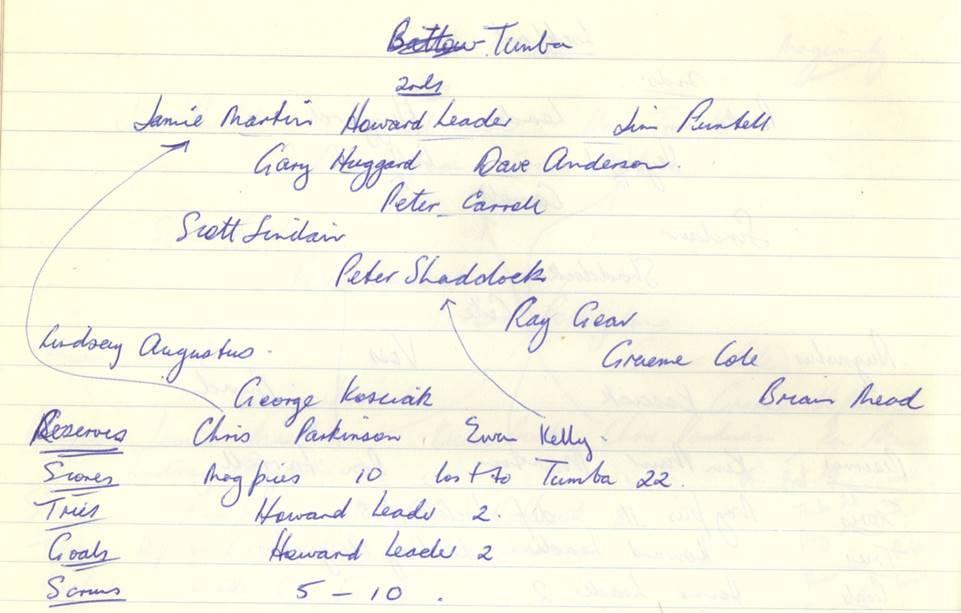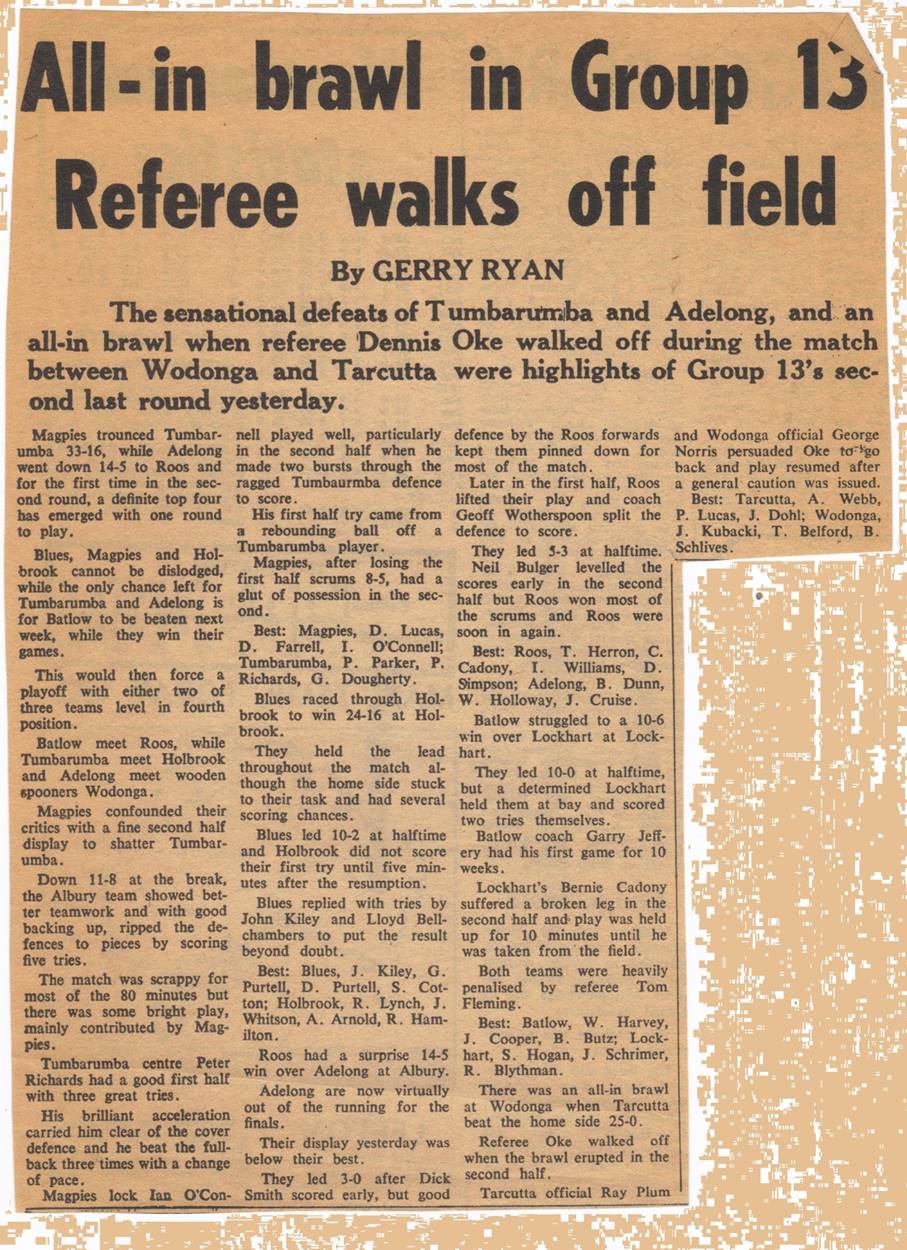 Magpies Players:
Southern Firsts: Mike Savage Wing, Ian O'Connell Lock.
Southern Seconds: Geoff Martin Fullback, R. Carroll Wing, John Miller Five-Eighth, Jamie Martin Front Row.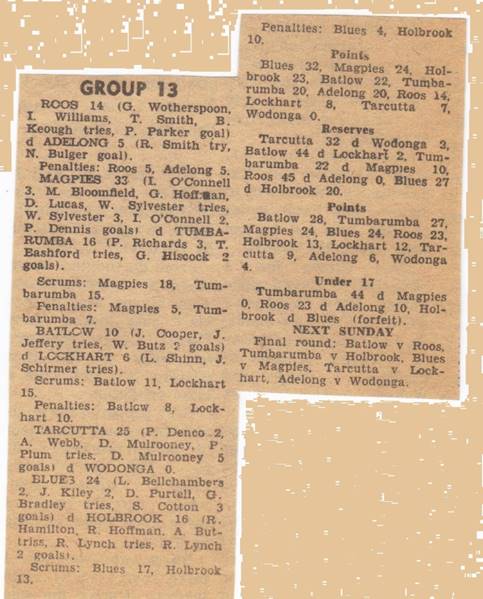 Group 13 Rep Team 1976
Back Row (L to R): Graham Doherty, Dave Mulrooney, Gary Purtell, Ray Lynch, Brian McPherson, Dick (Richard) Hamilton, ??.
Middle Row: Garry McKenzie (sling), Geoff Martin, Nifty Stevens, ??, Mike Savage, Ian Taskis, Aidan Beath??
Front Row: Bob Thompson, Steve Cotton, John Keeley, Allan Plum ?
Our First comp Touch team, playing in Manly colours bought by Ian O'Connell.
Back: Dave Polkinghorne, Ian O'Connell, Evan Connick, Mick Scott, Mick Trewin.
Crouched: Mike Waters
Front: Wayne Reid Col Selsby (ballboy from above phots??), Peter Westland, Bill Silvester, Peter Mentis.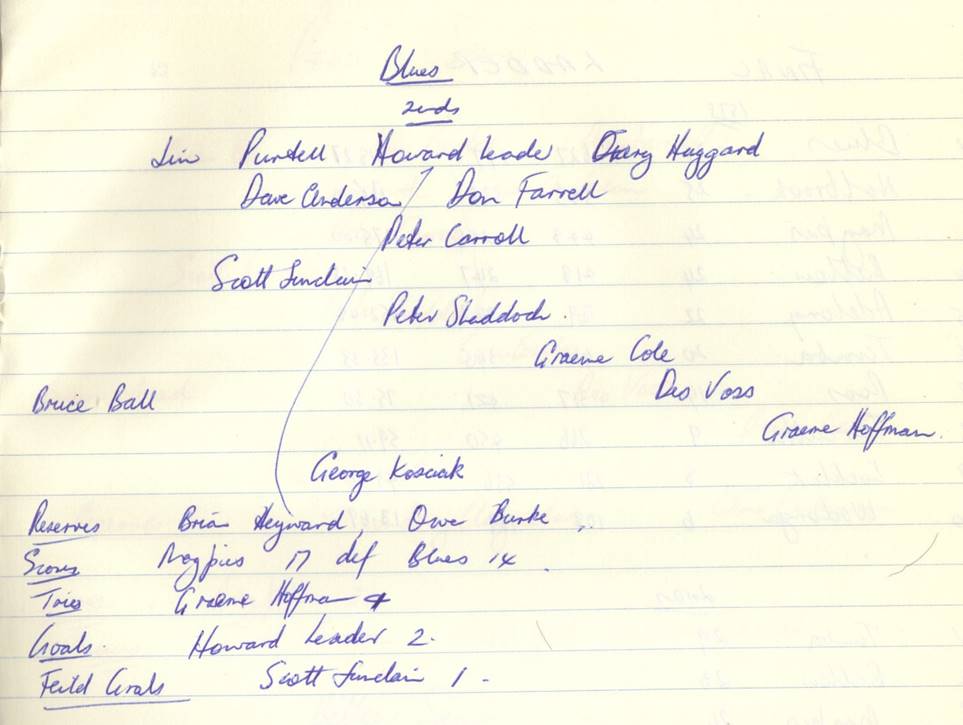 An offshoot that was the equally successful socially, and won 4 premierships.
Peter Graham, Graeme Gifford, Garry Huggard, Leyland Sawyer, Evan Kelly, Graeme (Red) Hore, Don Farrell (Captain), Phil Berick, Jamie Martin, Richard Rule, Bill Silvester, ??, Bobby Stepto.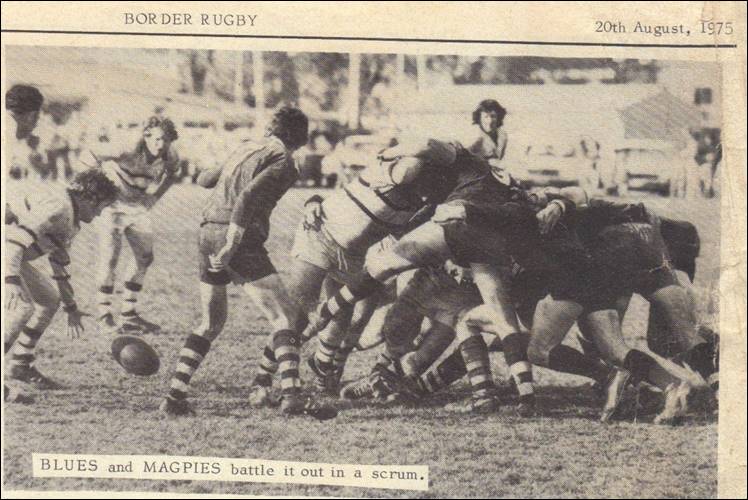 Evan Kelly, Brian Heyward, Richard Rule, Jamie Martin, Graeme Gifford, Graeme (Red) Hore, Terry Hodgetts, Don Farrell.
Charlie Hayes, Bob Napier, Peter Graham.
Mike Savage, Paul Dennis, Bill Silvester, Garry Huggard, Billy Lotter, Peter Graham.
Their first Hume Cricket Premiership.
Bob Napier had played first grade in Sydney, and Don Farrell opened Manly 2nd grade team with a former Australian opener.
Up ya bum, pull ya pud
Are we any bloody good?
We are the Magpies cricket team.
We won the Premiership
We think we're just IT
What did Ben's get?
A barrel full of s…!
Up ya bum, pull ya pud
Are we any bloody good?
We are the Magpies cricket team.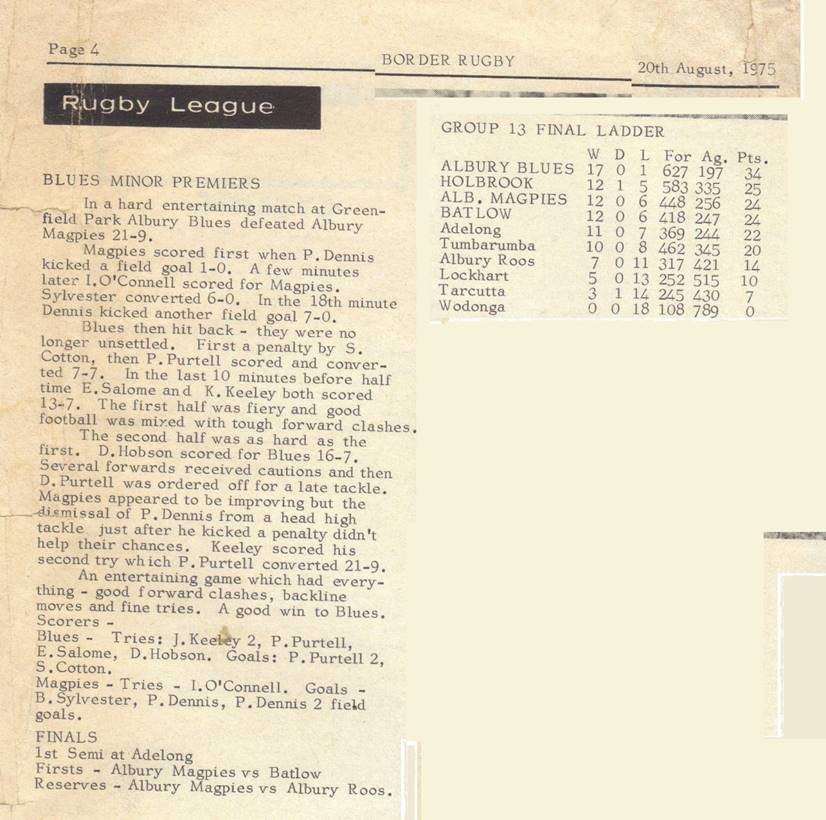 Willow Longbottom took a few of us home for a shower after the game. The game had been called off early because the conditions were toooo bad! And there was no hot, warm or even cool water left. So many went to the pub with their civies over the mud!
Another story has come to light recently … Wal Harvey took Mike Waters and Ian O'Connell home. His wife was taking toddies to them while they were in the bath and shower defrosting, then they sat down to a family Sunday night dinner, before returning quietly to the pub, saying nothing!!!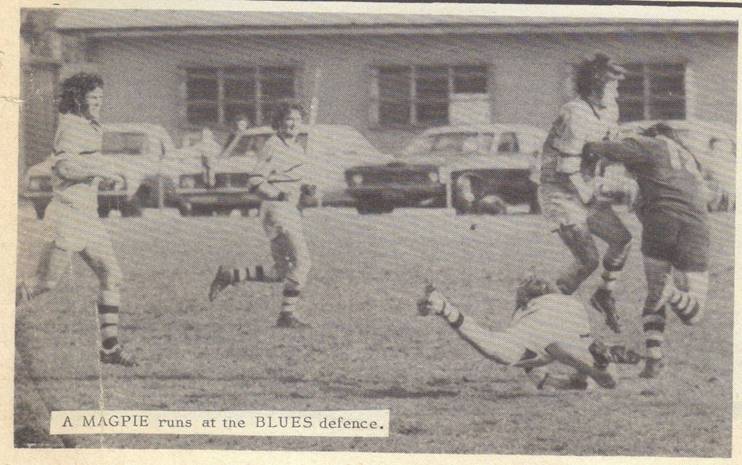 The Newmarket Hotel in Albury. One night a few players were locked in with the bar running, and lights out, after trading hours while the cops tried to get in!!! They even tried phoning the bar to get someone silly enough to answer.
Ian O' Connell playing with Roos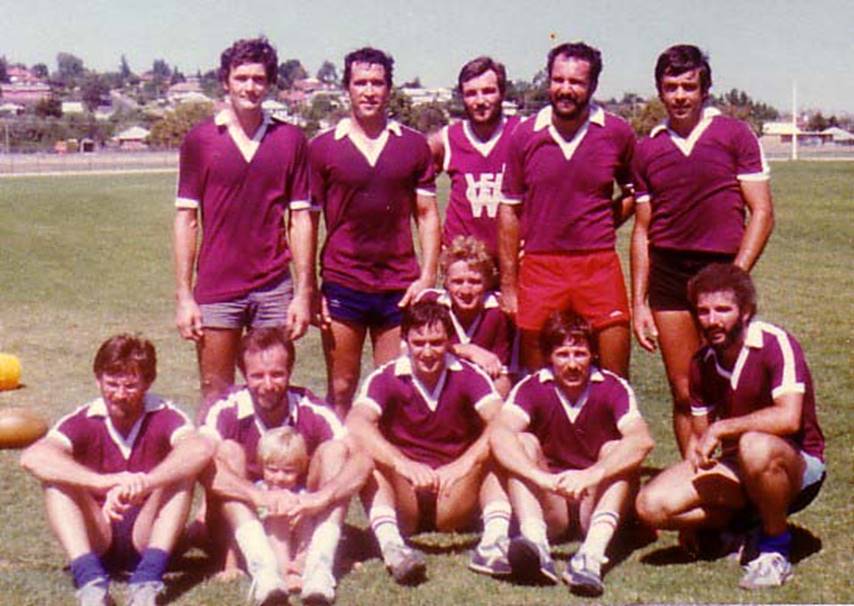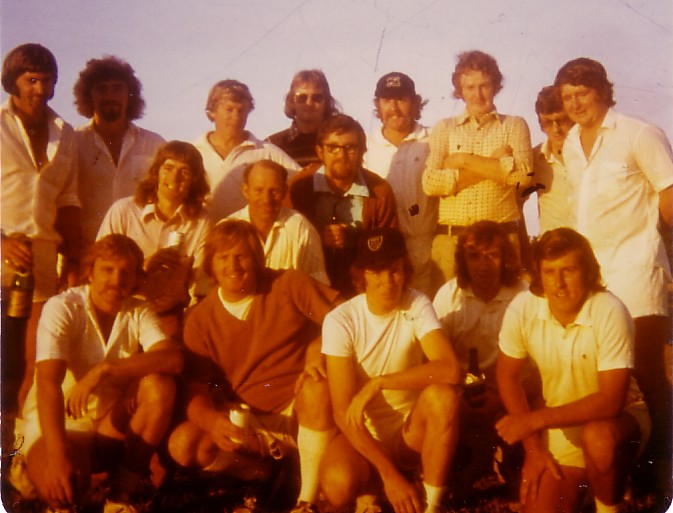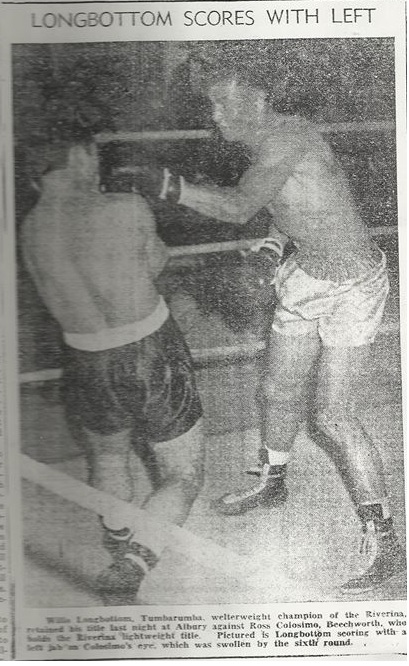 Ian's Group 13 Wayling Gold Medal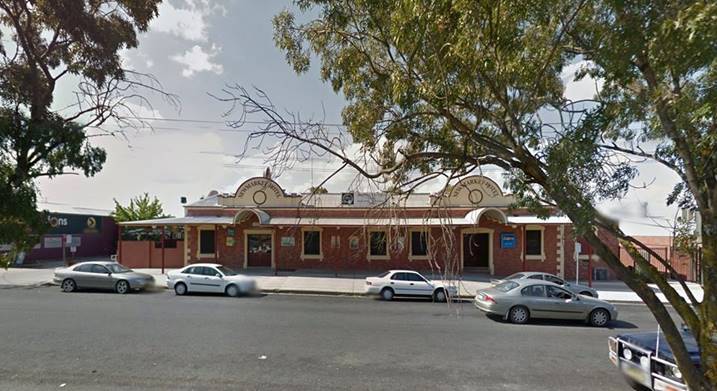 Billy Lotter (dropped the ball??)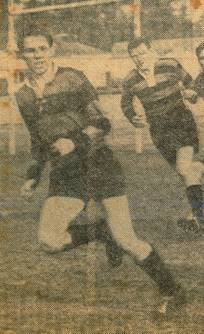 Bill Silvester
Wollongong 1965     Coolangatta 1968    Wollongong Age 69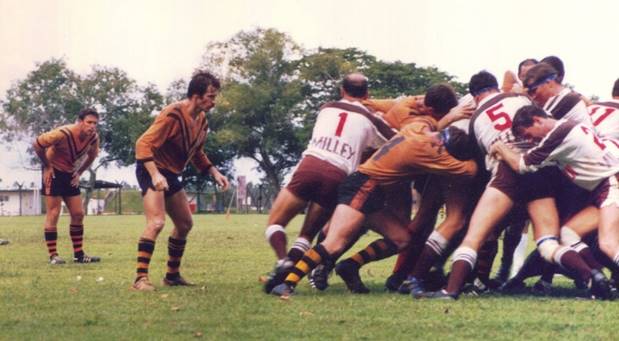 Age 39 RAAF Tigers v Army - Malaysia 1986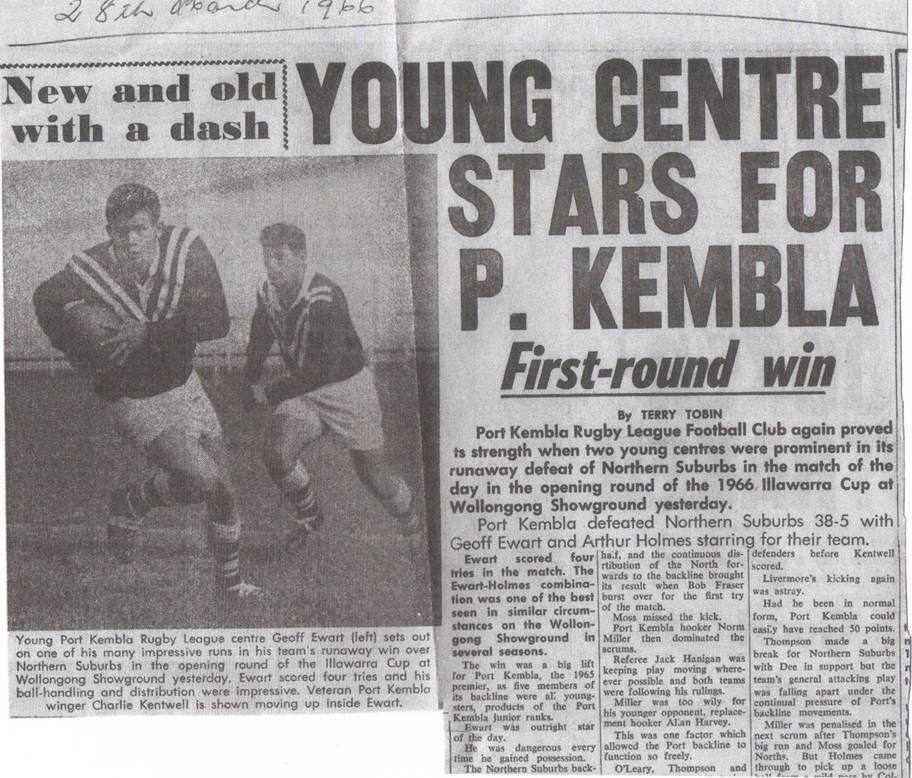 Geoff Ewart 1966 scoring 4 tries!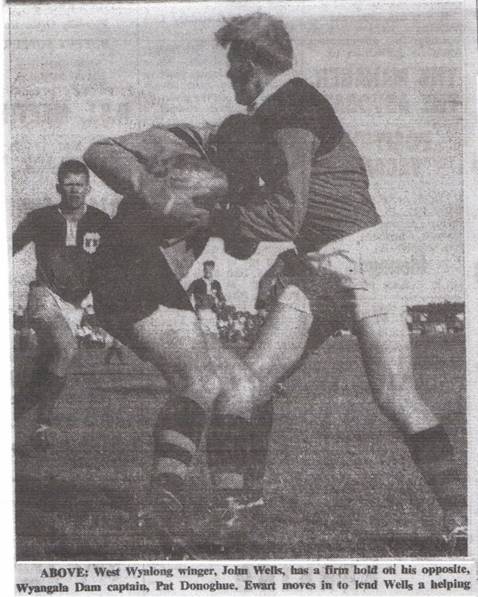 Geoff Ewart (far left) with West Wyalong
1970 Albury Roos def Tarcutta in Grand Final
Albury Teachers United (Albury Magpies) lost to Lockhart in the First Semi Final
1977 - Our last season was with Geoff Martin as coach in 1976 and we lost heaps on failed 300 club.
The rest is an untold story of how we paid back debts!!!!
About 1973 Albury Magpies played the last game of the season against Tumbarumba at Tumba. Thirty minutes into the first half a squall of ice and rain swept across the ground. Spontaneously the referee, linesman and players raced off the field for shelter.
Neither side was going to make the finals, and talking together under shelter someone suggested that we call this halftime and play the same time for the second half.
Upon hearing the ref said we couldn't do it as it was an official CRL game. He was ignored and someone said as the scores were close that we only play till, someone scores. This was agreed on by the players. After about 20 minutes with no further scores we all left the field and headed for the showers.
Unfortunately the reserves had used all the hot water and you can imagine the temperature of the cold water. A couple of players splashed water on themselves to remove most of the mud, but most just put their civies on over the mud and went to the pub.
Then 40 years later we hear a couple of the privileged players were taken home by Tumba players like Willo Longbottom and Wal Harvey for showers. They must have those who were friendliest on the field! … Bill Silvester
That cold wet day at Tumba, Howard leader and I were taken home by Hooker Parker. I was in the shower and Howard was in the bath. Hooker was supplying us with scotch to warm us up. We finished and ate a roast dinner his wife had been cooking and then hooker took us to the pub. I think I slept all the way back to Albury.  … Ian O'Connell
Magpies led at the break .. captains agreed that if one side got a converted try in front … we'd stop .. Magpies did .. ref wanted to declare it a no result and was told to 'piss off'. .. Dave Polk
Stuck in Batlow -  no petrol – rang wives – Willow Longbottom had a key to garage – we got home so went to Lav Sports Club – sprung by Pres wife
A Storm struck at Tumba 25 mins into the first half – we all ran for sheds – someone suggested calling that half time and playing the same for the second half .. the ref said you can't, it's an official CRL game .. we struck a deal with Tumba that if either side got more than a converted  try in front we'd call it quits. We did about 20mins or so into second half and all walked off.
The seconds had used all the hot water and the showers were too cold for anyone to get under so most put their civvies on went to the pub. A couple splashed themselves to get most of the mud off.
But for 50 years there has been a story withheld! Ian O'Connell and Howard Leader (??) were taken home by Hooker Parker. While Ian was in the shower and Howard in the bath, Wal's wife took them brandies to drink. Then they sat down to a roast dinner with Hooker's family before joining the rest at the pub.
I'll F'n give you Christmas Tree to Jamie Martin at Tumba. – Wal Harvey
Don Farrell taking on Blues taking it up to their forwards after they had started bashing captain Terry Hodgetts.
Geoff Martin left jabbing Wal Harvey repeatedly… from Batlow as he kept swing at him .. having a together beer after .. you kept hitting me said Wal .. yeah but you wouldn't stop coming at me answered Marto ..
Magpies after parties .. beers and drinks .. barbie .. music .. no one would go home.
Peter Graham – scoring an easy try at Lockhart after Bill Silvester warned Lockhart to watch out for Neil White…Pete dummied to Neil and went through untouched from 20m out. (Bill, Peter and Neil were at Wollongong Teachers College together – Neil had played for Illawarra Union, and had scored 4 tries against Tumba for Teachers to win 12-10 – the first loss for Tumba since re-joining Group13)
Peter Graham pulling hamstring at Blues ground in 2nd grade, 20 metres clear of the defense and throwing the ball 10m into the air and limping off.
Max Bloomfield stitching Bill S's head with needle and thread at Tarcutta after the game when it wouldn't stop bleeding down his face in the pub.
Getting thumped by Tarcutta player each time I (Bill S) kicked .. calling to Max for some protection .. finally jumping back up and thumping the player .. whistle blew .. and I thought I was gone .. but ref Barry Goldspink  penalised the opposition player .. and said to me Ï was waiting for you do something about it!!"
Wetting Polk's babies head at LSC… playing some coin game for shouts.
Kicking a goal just before full time to avoid not scoring and costing my father the double at Tumba ground where he had lost his front teeth.. BS.
Benalla trip… left one fella behind … wrestling Max in dark dining room behind swinging wild west doors .. Police escorting our bus out of town .. Bus trip to Melbourne .. kicked out of Benalla .. Red lip stick on barmaid in Lygon Street
Flight to Sydney .. Max Bloomfield on plane telling everyone to sit down and go to the toilet one at a time .. All staying together … then Ian going off to see some blonde!!.. $200 bucks to drink with at each stop to keep all together.
Dave and Coley getting a lift back into town in footy training gear and only socks by a Police Patrol car. Coley realising who the driver was used a stage whisper to Dave to inform him "Dave they're f'ing COPS!'.
Putting pool up inside out at Don Farrell's – started again the next weekend with no drinking….
Geoff Ewart taken to hospital at half time with hypothermia during a game at Batlow.